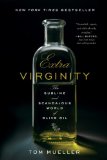 Extra Virginity: The Sublime and Scandalous World of Olive Oil
Interview with Tom Mueller
January 13, 2017
Sign Up. Full interview.
About Tom Mueller
Tom Mueller is a free-lance writer of non-fiction and fiction. He was educated at Oxford (DPhil, Rhodes Scholar), Harvard (BA, summa cum laude), and Alief Hastings High School in rural east Texas, home of the Fighting Bears. Tom studied classical guitar in Seville, Spain with América Martínez, a disciple of Andrés Segovia. He also worked as an associate in M&A at Goldman Sachs in their London and Frankfurt offices. He has lived or worked in 48 countries.
Tom's first book, Extra Virginity, is a New York Times best-selling account of olive oil culture, history, and crime. His articles have appeared in the New Yorker, National Geographic Magazine, New York Times Magazine, Atlantic Monthly, and elsewhere, and have been included in anthologies like Best American Science Writing and Best American Travel Writing. 
Tom is currently writing a non-fiction book on individuals, corporations and the law to be published in 2017 by Penguin-Random House (in their Riverhead imprint); and completing Subterranea, an historical novel and archaeological thriller set in the physical and psychic strata of Rome. He lives with my family in a small village in northwest Italy, near the French border.
Interview Summary
For centuries olive oil has been sought after in the Mediterranean world for its nutritive and culinary properties. Extracted from fruit, unlike other vegetable oils derived from seeds, olive oil has unique properties in taste, flavor and nutrition. With the advent of globalization in the recent decades, olive oil is now gaining new ground across regions and cultures around the world. However, high quality olive oil remains expensive, difficult to make and easy to adulterate.
In the days of the Roman Empire, the precious extract attained the status equivalent to the petroleum industry of today. Unfortunately, little has changed over the centuries when it comes to fraudulent practices seeking to make quick profits by marketing adulterated liquid to unsuspecting consumers. Today, the olive oil industry continues to suffer from adulteration, criminal activities, misleading marketing campaigns, and deceptive labeling tricks.
In Extra Virginity, Tom Mueller complements the historical and business perspectives on olive oil with insights into how recent technological and agricultural advances have improved the making of "liquid gold."
Key Topics
What is the history of olive oil?
How did olive oil come to symbolize the entire civilization?
What is the source of fascination with olive oil?
Why is extracting vegetable oil from olives, a type of fruit, so different from the processing of seeds?
How have advances in manufacturing practices improved olive oil quality?
How did olive oil, as a symbol of purity, become deeply corrupt?
How has the road from the olive tree to the table detoured through corruption, fraud and labs?
What are the types of frauds involved in the olive oil industry – from adulteration and legal frauds to low temp refining processors?
Is there a single country that produces the best olive oil?
Other Books by Author