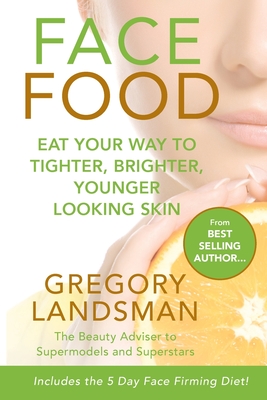 Hill of Content Publishing
Face Food: 5-Day Skin Detox Cleanse & Lifestyle Plan - Get Younger Looking Skin & Keep It For A Lifetime
0

Rate this book

Key Metrics
Hill of Content Publishing

Paperback

9780648289227

8.25 X 5.5 X 0.18 inches

0.25 pounds

Health & Fitness > Beauty & Grooming - General

English
$0
Estimated Arrival:
Dec 5 -Dec 7
Available Copies:
10+ Copies

Secure Transaction
Book Description
GIVE YOURSELF A NUTRITIONAL FACE LIFT - EAT YOUR WAY TO TIGHTER, BRIGHTER, YOUNGER LOOKING SKIN!
THE MOST POWERFUL ANTI-AGING INGREDIENTS CAN BE FOUND IN THE FOOD WE EAT. FACE FOOD IS FULL OF EASY TO MAKE RECIPES WITH FOOD SECRETS THAT ACHIEVE TIGHTER, BRIGHTER, YOUNGER LOOKING SKIN.
FACE FOOD can do for your skin what no expensive beauty cream can - it will show you how to give yourself a nutritional face lift. Find out how kidney beans plump and smooth the skin, a handful of almond can give skin a healthy glow and how the little sardine reduces wrinkles and prevents age spots.
FACE FOOD features easy to make recipes, revealing the most important natural foods full of powerful age defying vitamins and minerals that are essential to nurturing and protecting your skin's collagen which keeps the skin firm and elastic.
Optimise the health of your skin with recipes to:
- Counteract the aging process
- Stimulate and protect collagen
- Tighten skin and improve elasticity
- Reduce fine lines and wrinkles
- Protect skin with natural antioxidants
- Increase the thickness, and suppleness of skin
- Restore skin radiance
Attaining youthful looking skin has never been more simple or effective!
FROM FACE FOOD...
FACE FOOD highlights that simple, tasty foods have the ability to flush your face with vitality, improve and change the quality and texture of your skin, reduce wrinkles and fine lines, increase firmness and combat premature aging.
While genetic factors play a major role in the way we age, so does the food that we eat. In fact our diet is one of the great anti-aging secrets to retaining or regaining beautiful skin. It's all based on the basic principal that building and protecting collagen through the foods we eat is the foundation to healthy, youthful looking skin; as we increase collagen, wrinkles begin to fade and skin regains its elasticity.
Dealing with faces every day as I have for many years, it is easy to see when skin has been deprived of nutrients. So whenever I recommend a skin solution I keep in mind that one of the most effective ways to protect and preserve our skin at any age involves eating the right skin renewing foods.
Many of the natural foods we eat hold age-defying vitamins and minerals that are essential to give the skin radiance, while supporting, hydrating and maintaining the health of the skin. They are also the key to building collagen.
You may ask why building collagen is so important. Simply because collagen is the protein in connective tissue that keeps the skin elastic. However, the fibres in these tissues can become weak and damaged through free radicals, which impact our skin both inside and out as a result of different lifestyle elements such as bad food, sun damage, smoking, pollution, excess alcohol, and the list goes on!
However, collagen cannot be absorbed from a beauty cream as the molecules are too large to penetrate the skin's cells. This means the most effective solution is either topically applying the right ingredients (see Face Value), or eating foods full of skin regenerating vitamins and minerals that naturally renew, stimulate and protect collagen.
The quick and easy recipes in this book are power packed with skin building ingredients to help your skin be the best it can be.
For me cooking is not only a wonderful reminder that sharing food with those we love nurtures their health and skin from the inside out, but that the true essence of our beauty is in sharing the spirit of our humanity.
Gregory Landsman
Face Food: 5-Day Skin Detox Cleanse & Lifestyle Plan - Get Younger Looking Skin & Keep It For A Lifetime