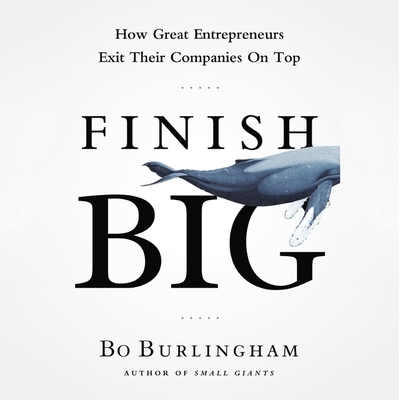 Gildan Media Corporation
Finish Big: How Great Entrepreneurs Exit Their Companies on Top
0

Rate this book

Key Metrics
Gildan Media Corporation

Audio

9798200558803

-

-

Business & Economics > Entrepreneurship

English
$0
Available Copies:
0 Copies

Secure Transaction
Book Description
No two exit experiences are exactly alike. Some people wind up happy with the process and satisfied with the way it turned out while others look back on it as a nightmare. The question I hope to answer in this book is why. What did the people with 'good' exits do differently from those who'd had 'bad' exits? When pioneering business journalist and Inc. magazine editor at large Bo Burlingham wrote Small Giants, it became an instant classic for its original take on a common business problem--how to handle the pressure to grow. Now Burlingham is back to tackle an even more common problem--how to exit your company well. Sooner or later, all entrepreneurs leave their businesses and all businesses get sold, given away, or liquidated. Whatever your preferred outcome, you need to start planning for it while you still have time and options. The beautiful part is that if you start early enough, the process will lead you to build a better, stronger, more resilient company, as well as one with a higher market value. Unfortunately, most owners don't start early enough--and pay a steep price for their procrastination. Burlingham interviewed dozens of entrepreneurs across a range of industries and identified eight key factors that determine whether owners are happy after leaving their businesses. His book showcases the insights, exit plans, and cautionary tales of entrepreneurs such as Ray Pagano: founder of a leading manufacturer of housings for security cameras. He turned down a bid for his company and instead changed his management style, resulting in a subsequent sale for four times the original offer. Bill Niman: founder of the iconic Niman Ranch, which revolutionized the meat industry. He learned about unhappy exits when he was forced to sell to private equity investors, leaving him with nothing to show for his thirty-five years in business. Gary Hirshberg: founder of organic yogurt pioneer Stonyfield Farm. He pulled off the nearly impossible task of finding a large company that would buy out his 275 small investors at a premium price while letting him retain complete control of the business. Through such stories, Burlingham offers an illuminating and inspirational guide to one of the most stressful, and yet potentially rewarding, processes business owners must go through. And he explores the emotional challenges they face at every step of the way. At the end of the day, owning a business is about more than selling goods and services. It's about making choices that shape your entire life, both professional and personal. Finish Big helps you figure out how to face your future with confidence and be able to someday look back on your journey with pride.
Finish Big: How Great Entrepreneurs Exit Their Companies on Top
Author Bio
Bo Burlingham is an editor-at-large of Inc. magazine and the author of five books,the most recent being Finish Big: How Great Entrepreneurs Exit Their Companies on Top (Portfolio/Penguin, 2014). A previous book, Small Giants: Companies That Choose To Be Great Instead of Big (Portfolio/Penguin, 2006), was one of five finalists for the 2006 Financial Times/Goldman Sachs Business Book of the Year award.
Burlingham joined Inc. in January 1983 as a senior editor and became executive editor six months later. As executive editor, he was involved in much of the magazine's early coverage of innovative companies that have since emerged as leaders of the so-called New Economy. In 1990, he resigned that position so that he could do more writing and assumed the title of editor-at-large. Subsequently he wrote two books with Jack Stack, the co-founder and CEO of SRC Holdings Corp. (formerly, Springfield Remanufacturing Corp.) and the pioneer of open-book management. One of the books, The Great Game of Business (Doubleday/Currency, 1992), introduced the concept of open-book management, has sold more than 300,000 copies, and was named one of "the 100 best business books of all time." The other, A Stake in the Outcome (Doubleday/Currency, 2002), recounted how SRC built its culture of ownership while developing the business model that has allowed it to grow from $16 million to $600 million in revenue as of this writing.
Burlingham also co-authors with Norm Brodsky the popular column in Inc. called "Street Smarts," which was the winner of a gold Azbee award from the American Society of Business Publication Editors in 2008, and a finalist for a National Magazine Award in 2006 and 2008. He and Brodsky also wrote The Knack: How Street-Smart Entrepreneurs Learn to Handle Whatever Comes Up (Portfolio/Penguin, 2008). (When the book was reissued in paperback a year later, the title was changed to Street Smarts: An All-Purpose Tool Kit for Entrepreneurs.)
A former Fulbright Scholar and a Woodrow Wilson Fellow, Burlingham graduated from Princeton University in 1967 with a B.A. in public and international affairs. He subsequently served as managing editor of Ramparts magazine, contributing editor of New Times magazine, and a member of the editorial board of Working Papers, and wrote for numerous publications, including Harper's, Esquire, Mother Jones, The Boston Globe, and Boston magazine.
In the early 1980s, he joined Fidelity Investments, the mutual fund company, where he worked with fund managers and top executives, including Peter Lynch. Burlingham was a founding member, with Tom Peters, of PAC/World, an international organization of business leaders and observers. He served on the board of The Body Shop Inc., the U.S. subsidiary of the international skin and hair care company, from 1992 to 1997.
Bo and his wife, Lisa, have been married for 44 years and live in Oakland, California, and Sancerre, France. They have two children and four grandchildren.
Source: boburlingham.com
more
Videos