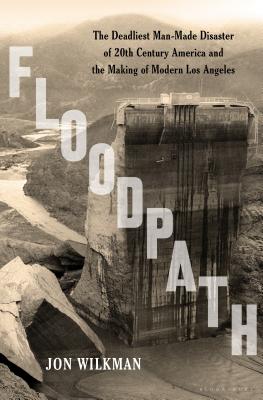 Floodpath:The Deadliest Man-Made Disaster of 20th-Century America and the Making of Modern Los Angeles
Interview with Jon Wilkman
May 19, 2016
Sign Up to listen to full interview.
About Jon Wilkman
After graduating from Oberlin College, Jon began his career in New York with the CBS News documentary unit. During his seven years at CBS, he  worked with Walter Cronkite on the award winning "Twentieth Century" and "21st Century" series, as well as the "Of Black America" six-part historical documentary special. Other television projects include writing, directing and producing the WCBS "Eye on New York" series, and the Emmy Award- winning documentary "Countdown to a Contract." During this time, he  wrote the book,Black Americans: From Colonial Days to the Present.

In 1971, Jon formed Wilkman Productions, Inc. For PBS he worked as a program producer on the Emmy Award-winning "Great American Dream Machine" series and was the Producer/Director of the  Sigma Delta Chi Award-winning 90-minute PBS documentary "Attica." He also wrote, produced and directed the "What About Tomorrow?" series for ABC, "Voices of America," an 8-part  look at American regional life for McGraw Hill, "Transistor," documenting the history of the transistor for AT&T, and "American Images" for the United States Information Agency, winner of a CINE Golden Eagle Award.

Returning to his hometown, Los Angeles, in 1978, Jon continued work for television and commercial clients. He was producer, director writer on seven HBO specials, including "Whodunit?," "Scandals," "Spies" and "Real Detectives," among others. He received Emmys for two public television series, "Turning Points" and "The Los Angeles History Project," developed in association with KCET. 

Other Wilkman Productions projects include the NBC television special, "L.A. Law," hosted by Jane Pauley, and documentary elements for the historically-based dramatic films "Fatherland," "American Stories," "Witch Hunt," and "Winchell," all produced by HBO Pictures. Jon has a special interest in history. With his late wife and partner, Nancy, he produced, directed and wrote a three-hour biography of Thomas Edison ("The Edison Effect") for the History Channel and A&E.

Recent history-based documentaries and television specials include a 7-part series for Turner Classic Movies entitled "Moguls and Movie Stars: A History of Hollywood." (www.tcm.com/moguls), which was nominated for three Emmy Awards; also, the PBS documentary, "Chicano Rock! The Sounds of East Los Angeles," winner of the 2009 Best Documentary at the Reel Rasquache Festival of the U.S. Latino Experience in Film and Art; a four-part PBS series, "The Port of Los Angeles: A History;" "With Heart and Hand: The Restoration of the Gamble House," and "At Issue: Immigration." 

Jon is co-author of two books with his wife Nancy:Picturing Los Angeles and Los Angeles: A Pictorial Celebration.  His most recent book, Floodpath: The Deadliest Man-Made Disaster of 20th Century America and the Making of Modern Los Angeles, was published by Bloomsbury Press in January 2016.  Selected as an Amazon Book of the Month,Floodpath was written as a companion to a new documentary in development, "The St. Francis Dam Disaster."  

In addition to an active career as a producer, director and writer, Jon has lectured on film history and the production of documentaries at Fordham University, taught nonfiction writing at the University of Southern California School of Cinematic Arts, and classes about the history of Los Angeles for UCLA Extension. As part of his interest and involvement in local history, he is an emeritus member of the Board of Directors of the Historical Society of Southern California, founded in 1883.

Jon was a three-term president of the International Documentary Association, during which he founded the First International Documentary Congress in association with the Academy of Motion Picture Arts and Sciences.  He is a member of the Directors Guild of America and the Writers Guild of America, West.
more
Interview Summary
more
Key Topics
Other Books by Author