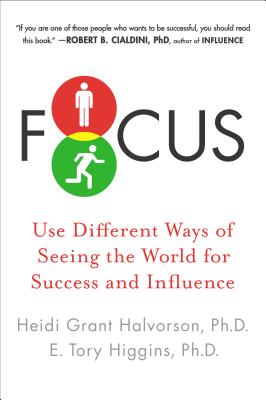 Penguin Group (New Zealand)
Focus: Use Different Ways of Seeing the World for Success and Influence
0

Rate this book

Key Metrics
Penguin Group (New Zealand)

Paperback

9780142180730

8.1 X 5.35 X 0.6 inches

0.45 pounds

Self-Help > Motivational & Inspirational

English
$0
Available Copies:
0 Copies

Secure Transaction
Book Description
A must-read for anyone who wants to understand why they behave as they do. --Art Markman, Ph.D., author of
Smart Thinking
Do you play to win? Or do you play not to lose?
As Tory Higgins and Heidi Grant Halvorson have discovered in their work at Columbia University's Motivation Science Center, everything we do is motivated either by a desire to be better off or to simply hang on to what we've got. And understanding the simple but crucial difference between the two can empower you to motivate yourself and influence everyone around you. Examining how promotion/prevention focus applies across a wide range of situations--from selling products to managing employees to raising children to getting a second date--Halvorson and Higgins show us how to identify, change, and use focus to get the results we want.
Focus: Use Different Ways of Seeing the World for Success and Influence
Author Bio
Dr. Heidi Grant is a social psychologist who researches, writes, and speaks about the science of leadership and motivation.  In both 2017 and 2019, she was named one of Thinkers50's most influential management thinkers globally in their biannual rankings. She is the Director of Research & Development for EY Americas Learning, Associate Director of the Motivation Science Center at the Columbia University, and author of the best-selling books:
Reinforcements: How to Get People To Help You, No One Understands You and What To Do About It, Succeed: How We Can All Reach Our Goals, Nine Things Successful People Do Differently, Focus: Use Different Ways of Seeing The World for Success and Influence (co-written with E. Tory Higgins), and The 8 Motivational Challenges.
Dr. Grant has appeared regularly on CBS: This Morning, and is also a contributor to the Harvard Business Review, 99u, Fast Company, Business Insider, Forbes, The Huffington Post, and Psychology Today.    
Her June 2019 TED talk on motivating others to help you has over 2 million views. She gives frequent keynotes for organizations and speaks regularly at national conferences, primarily on the topics of innovation, influence, leadership, and management.  She received her PhD in social psychology from Columbia University, working with Carol Dweck (author of Mindset).
In addition to her work as author and co-editor of the highly-regarded academic book The Psychology of Goals (Guilford, 2009), she has authored papers in her field's most prestigious journals, including the Journal of Personality and Social Psychology, Journal of Experimental Social Psychology, Personality and Social Psychology Bulletin, European Journal of Social Psychology, and Judgment and Decision Making.   She has received numerous grants from the National Science Foundation for her research on goals and achievement.
Dr. Grant is a member of the American Psychological Association, the Association for Psychological Science, and the Society for Personality and Social Psychology, and was recently elected to the highly selective Society for Experimental Social Psychology.
Source: heidigrantphd.com
more
Videos