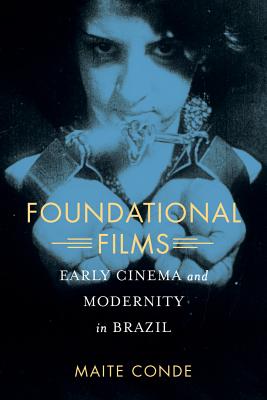 University of California Press
Foundational Films: Early Cinema and Modernity in Brazil
0

Rate this book

Key Metrics
University of California Press

Paperback

9780520290990

8.9 X 5.9 X 0.9 inches

0.95 pounds

Performing Arts > Film - General

English
$0
Estimated Arrival:
Dec 12 -Dec 14
Available Copies:
10+ Copies

Secure Transaction
Book Description
In her authoritative new book, Maite Conde introduces readers to the crucial early years of Brazilian cinema. Focusing on silent films released during the First Republic (1889-1930), Foundational Films explores how the medium became implicated in a larger project to transform Brazil into a modern nation. Analyzing an array of cinematic forms, from depictions of contemporary life and fan magazines, to experimental avant-garde productions, Conde demonstrates the distinct ways in which Brazil's early film culture helped to project a new image of the country.
Foundational Films: Early Cinema and Modernity in Brazil
Author Bio
Maite Conde's research focuses on Brazilian culture, with a particular emphasis on cinema. Specifically, her work has engaged with questions concerning the relationship between cinema, literature and modernity in Brazil. This has involved a sustained examination of theoretical debates regarding the productive dialogue between film and literary modernism in the early 1900s, and discussions concerning cinema and modernity in Brazil's First Republic. She is currently completing a book that explores the year 1922 in Brazil.
Maite's first book Consuming Visions. Cinema, Writing and Modernity in Rio de Janeiro(Virginia University Press, 2012), explores the relationship between cinema and writing in early twentieth-century Brazil, focusing on how the new and foreign medium of film was consumed by a literary society in the throes of modernization. This book was awarded an  Andrew Mellon/MLA award.
Her second book monograph, Foundational Films. Early Cinema and Modernity in Brazil (University of California Press, 2018) introduces readers to the crucial early years of cinema in Brazil, by looking at the arrival and dissemination of the medium in the modernizing period of the First Republic (1889-1930). 
This book was awarded the Katherine Singer Kovacs Prize by the Modern Language Association for the most outstanding book published in English and Spanish in the field of Latin American and Spanish Literatures and Cultures. It was also awarded an Honourable Mention for the best book in the Humanities (the Antonio Candido Prize) by the Latin American Studies Association's Brazilian Section and was a finalist for the Richard Wall Memorial Award for an exemplary work in the fields of theatre or film studies.
Furthering her work on Brazilian modernity, Maite is now completing (with Professor Lisa Shaw, University of Liverpool) a book titled Brazil 1922. A Year of Cultural Revolutions (under contract for Routledge). The book explores the diverse innovations that occurred in the country's cultural landscape that year, looking at architectural and urban changes, changes in popular music, in fashion, in women's writing, as well as in literary production with the famous Semana de Arte Moderna,which took place in São Paulo in February 1922.
In addition to her work in film, Maite  also maintains an interest in Latin American social and cultural theory, and a particular interest in bringing key scholars into the Anglo American field. To this extent, she edited, translated and wrote the introduction to Between Conformity and Resistance(Palgrave Macmillan, 2011), a collection of key essays by renowned Brazilian philosopher Marilena Chauí. She also edited volume of essays by Brazilian film scholar Paulo Emílio Salles Gomes, 
Paulo Emílio Salles Gomes: On Brazil and Global Cinema (University of Wales Press, 2018). A further edited book project Manifesting Democracy? Urban Protest and the Politics of Representation in Brazil Post 2013 (under contract, Wiley Blackwell) brings together Brazilian scholars and activists to examine the Brazilian protests of 2013 and their aftermath. She is now co-editing (with Professor Gustavo Procopio Furtado, Duke University) the Oxford Handbook of Brazilian Cinema, which brings together works by established scholars on Brazilian film along with emerging experts and also film practitioners.
Maite has previously taught at Oxford University, King's College London and Liverpool University, and in the United States, at Columbia University in New York and the University of California, Los Angeles. She has been awarded research fellowships at Oxford University (2004-2005) and at King's College London (2009-2011) and in 2013 was research fellow at The University of São Paulo in Brazil.
Dr Conde welcomes inquiries from potential MPhil and PhD students with research interests relevant to her interests.
Source: University of Cambridge 
more