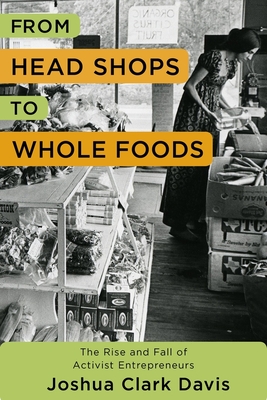 Columbia University Press
From Head Shops to Whole Foods: The Rise and Fall of Activist Entrepreneurs
0

Rate this book

Key Metrics
Columbia University Press

Paperback

9780231171595

8.9 X 5.9 X 0.9 inches

1.05 pounds

Business & Economics > New Business Enterprises

English
$0
Estimated Arrival:
Sep 26 -Sep 28
Available Copies:
10+ Copies

Secure Transaction
Book Description
In the 1960s and '70s, a diverse range of storefronts--including head shops, African American bookstores, feminist businesses, and organic grocers--brought the work of the New Left, Black Power, feminism, environmentalism, and other movements into the marketplace. Through shared ownership, limited growth, and democratic workplaces, these activist entrepreneurs offered alternatives to conventional profit-driven corporate business models. By the middle of the 1970s, thousands of these enterprises operated across the United States--but only a handful survive today. Some, such as Whole Foods Market, have abandoned their quest for collective political change in favor of maximizing profits.
Vividly portraying the struggles, successes, and sacrifices of these unlikely entrepreneurs, From Head Shops to Whole Foods writes a new history of social movements and capitalism by showing how activists embraced small businesses in a way few historians have considered. The book challenges the widespread but mistaken idea that activism and political dissent are inherently antithetical to participation in the marketplace. Joshua Clark Davis uncovers the historical roots of contemporary interest in ethical consumption, social enterprise, buying local, and mission-driven business, while also showing how today's companies have adopted the language--but not often the mission--of liberation and social change.
From Head Shops to Whole Foods: The Rise and Fall of Activist Entrepreneurs
Author Bio
I teach and research broadly in twentieth-century United States History with a focus on social movements, policing, capitalism, urban history, and African American History. My book,  From Head Shops to Whole Foods: The Rise and Fall of Activist Entrepreneurs  (Columbia University Press, 2017) explores how small businesses such as organic food stores, head shops, feminist businesses, and African American bookstores emerged from social movements and countercultures in the 1960s and '70s. Forerunners of today's social entrepreneurs, these companies sought to democratize American business while advancing political liberation and cultural transformation.
I'm also co-editor of the essay collection Baltimore Revisited: Stories of Inequality and Resistance in a U.S. City . My research has been supported by fellowships from the National Endowment for the Humanities and the Fulbright Scholar Program. I've written for Jacobin, The Washington Post,  and The Atlantic ,  and my work has been featured in Time , Slate, The Chronicle of Higher Education, The Philadelphia Inquirer , and USA Today .
I am also a devoted public historian with a deep interest in working with communities beyond universities. I serve on the advisory board of the Baltimore Uprising 2015 Archive Project and as a research associate for the Library of Congress's Radio Preservation Task Force. I also co-directed "Media and the Movement," a NEH-funded oral history and radio digitization project on activists of the Civil Rights and Black Power era who worked in media.
Education
Ph.D., M.A., University of North Carolina at Chapel Hill
B.A., University of Pennsylvania
Source: University of Baltimore 
more