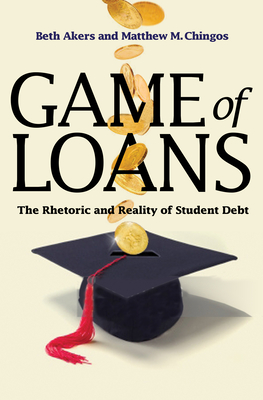 Princeton University Press
Game of Loans: The Rhetoric and Reality of Student Debt
0

Rate this book

Key Metrics
Princeton University Press

Paperback

9780691181103

8.1 X 5 X 0.6 inches

0.5 pounds

Education > Finance

English
$0
Estimated Arrival:
Sep 28 -Sep 30
Available Copies:
10+ Copies

Secure Transaction
Book Description
Why fears about a looming student loan crisis are unfounded--and how they obscure what's really wrong with student lending
College tuition and student debt levels have been rising at an alarming pace for at least two decades. These trends, coupled with an economy weakened by a major recession, have raised serious questions about whether we are headed for a major crisis, with borrowers defaulting on their loans in unprecedented numbers and taxpayers being forced to foot the bill. Game of Loans draws on new evidence to explain why such fears are misplaced--and how the popular myth of a looming crisis has obscured the real problems facing student lending in America.
Bringing needed clarity to an issue that concerns all of us, Beth Akers and Matthew Chingos cut through the sensationalism and misleading rhetoric to make the compelling case that college remains a good investment for most students. They show how, in fact, typical borrowers face affordable debt burdens, and argue that the truly serious cases of financial hardship portrayed in the media are less common than the popular narrative would have us believe. But there are more troubling problems with student loans that don't receive the same attention. They include high rates of avoidable defaults by students who take on loans but don't finish college--the riskiest segment of borrowers--and a dysfunctional market where competition among colleges drives tuition costs up instead of down.
Persuasive and compelling, Game of Loans moves beyond the emotionally charged and politicized talk surrounding student debt, and offers a set of sensible policy proposals that can solve the real problems in student lending.
Game of Loans: The Rhetoric and Reality of Student Debt
Author Bio
Elizabeth "Beth" Akers is a senior fellow at the American Enterprise Institute (AEI), where she focuses on the economics of higher education. Before joining AEI, she worked as a senior fellow at the Manhattan Institute, a visiting research scholar at the Federal Reserve Board, a fellow at Brookings Institution, and a staff economist at the Council of Economic Advisers under President George W. Bush.
Dr. Akers is the coauthor of "Game of Loans: The Rhetoric and Reality of Student Debt" (Princeton University Press, 2016) and the coauthor of the chapter "Understanding Changes in the Distribution of Student Loan Debt over Time" in "Student Loans and the Dynamics of Debt" (Upjohn Institute Press, 2015).
She has testified before Congress, and her writing and research have been published or featured in Bloomberg View, Boston Globe, E21 Manhattan Institute, Education Next, New York Daily News, New York Post, Newsweek, Quartz, Time, The Hill, The New York Times, The Wall Street Journal, The Washington Post, and USA Today, among others. Her broadcast appearances include ABC News, Bloomberg Television, C-SPAN, and CNBC.
Dr. Akers has a PhD in economics from Columbia University and a BS in mathematics and economics from the State University of New York at Albany.
Source: American Enterprise Institute 
more