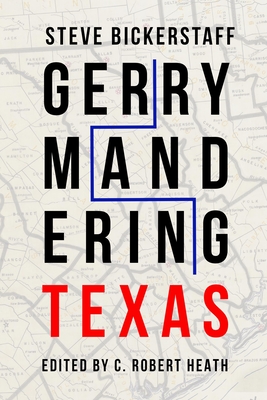 Steve Bickerstaff

Texas Tech University Press
Gerrymandering Texas
0

Rate this book

Key Metrics
Steve Bickerstaff

Texas Tech University Press

Paperback

9781682830734

8.9 X 7.7 X 0.7 inches

0.8 pounds

Political Science > American Government - State

English
$0
Estimated Arrival:
Sep 22 -Sep 24
Available Copies:
10+ Copies

Secure Transaction
Book Description
Gerrymandering Texas
Author Bio
In 1980, Steve Bickerstaff and Bob Heath, both of whom had been division chiefs in the Texas Attorney General's office, began their private practice, then known as Bickerstaff and Heath, devoted in large part to state and local government law. Steve represented governments and private entities in matters ranging from health care to telecommunications to constitutional law, but he was perhaps best known as an expert in redistricting.
In his practice, Steve advised the legislature and counseled state and local governments on redistricting and voting rights matters and represented such governments in state and federal court and before the United States Department of Justice for more than thirty years. Among the over 20 redistricting cases in which he was the counsel of record are Seamon v. Upham, United States v. City of Houston, Upham v. White, Clements v. Valles, McNeil v. City of Springfield, Illinois, Terrazas v. Clements, Campos v. City of Houston, Overton v. City of Austin, Chen v. City of Houston, and Graves v. Barnes. Also during this time, Steve represented individual candidates on state and federal campaign finance issues and in election recount and contest proceedings, including in rare statewide recounts.
Steve was an adjunct professor of law at the University of Texas Law School from 1992- 1997. Following retirement from the firm, he taught full time at the law school as a visiting professor in 1998-1999. During 2000-2001 he lectured at several universities in Europe pursuant to grants from the Fulbright and Rockefeller Foundations. He taught a seminar in 2006 and in 2007 taught Constitutional Law: The Law of Elections, Redistricting and Campaign Finance. Previous to this, he taught a variety of courses at the law school, including constitutional law, regulating the use of money in politics, local government law, election law, voting rights law, public policy litigation and telecommunications regulation.
Steve served as a member of the board of Trustees for Alaska, as Secretary-Treasurer of the board of the Marfa Public Radio Corporation, and as a member of the National Council of the National Parks Conservation Association. He also served as chairman of the mergers and acquisitions committee of the Board of Directors of Corporate Systems, Inc., a computer software company with its primary offices in Amarillo, Texas, until it was sold to Marsh, USA in September 2004.
Steve published more than 15 law journal articles, primarily in the area of election law. He is the author of several books, most notably, Lines in the Sand, about the 2003 congressional redistricting in Texas, the 2002 election that made the redistricting possible, and the civil and criminal court proceedings that have followed. The book was published by UT Press in 2007. At the time of his death, Steve had written the soon-to-be published book, Election Systems and Gerrymandering Worldwide, (Springer, 2 December 26, 2019); and a book in progress, Redistricting Texas (1836-2001): Gerrymandering and Politics Texas Style, which was in the revision process.
Source: Bickerstaff.com