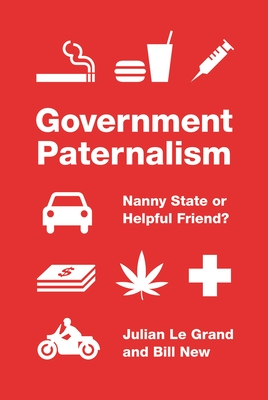 Princeton University Press
Government Paternalism: Nanny State or Helpful Friend?
0

Rate this book

Key Metrics
Princeton University Press

Paperback

9780691210001

9.1 X 6.1 X 0.6 inches

0.7 pounds

Political Science > Public Policy - Social Policy

English
$0
Estimated Arrival:
Aug 11 -Aug 15
Available Copies:
5 Copies

Secure Transaction
Book Description
Should governments save people from themselves? Do governments have the right to influence citizens' behavior related to smoking tobacco, eating too much, not saving enough, drinking alcohol, or taking marijuana--or does this create a nanny state, leading to infantilization, demotivation, and breaches in individual autonomy? Looking at examples from both sides of the Atlantic and around the world, Government Paternalism examines the justifications for, and the prevalence of, government involvement and considers when intervention might or might not be acceptable. Building on developments in philosophy, behavioral economics, and psychology, Julian Le Grand and Bill New explore the roles, boundaries, and responsibilities of the government and its citizens.
Le Grand and New investigate specific policy areas, including smoking, saving for pensions, and assisted suicide. They discuss legal restrictions on risky behavior, taxation of harmful activities, and subsidies for beneficial activities. And they pay particular attention to nudge or libertarian paternalist proposals that try to change the context in which individuals make decisions so that they make the right ones. Le Grand and New argue that individuals often display reasoning failure: an inability to achieve the ends that they set themselves. Such instances are ideal for paternalistic interventions--for though such interventions might impinge on autonomy, the impact can be outweighed by an improvement in well-being.
Government Paternalism rigorously considers whether the state should guide citizen decision making in positive ways and if so, how this should be achieved.
Government Paternalism: Nanny State or Helpful Friend?
Author Bio
Julian Le Grand has been Professor of Social Policy at the London School of Economics and Political Science since 1993. He was awarded a knighthood in the 2015 New Year's Honour's list for services to social sciences and public service.
He is an economist by training, with a PhD in economics from the University of Pennsylvania. He is the author, co-author or editor of over twenty books, and more than one hundred refereed journal articles and book chapters on economics, philosophy, and public policy. He has taught at the Universities of Sussex, Bristol and California, Santa Barbara, as well as the LSE.
He is a Fellow of the British Academy, a Founding Academician of the Academy of Social Sciences, and an Honorary Fellow of the Faculty of Public Health Medicine. He was a Trustee of the Kings Fund from 2007 to 2016. In 2006 he was awarded an honorary doctorate (DLitt) by the University of Sussex. 
In 2012 he was awarded the Eupolis Prize for Public Policy by the Eupolis Institute, Milan, and his submission for the Wolfson economics prize received 'a special category' prize. He has been listed as one of the Guardian's and Prospect's top British public intellectuals, the ESRC's Heroes of Dissemination, the Evening Standard's most influential people in London, and the Local Government Chronicle's most influential people in local government.
From 2003 to 2005 he was seconded to No 10 Downing St to serve as Senior Policy Adviser to the Prime Minister. In 2007 he was Chairman of the Social Work Practices Working Group for the UK Department for Children, Families and Schools. From 2007 to 2009 he was Chair of Health England: the National Reference Group for Health and Well Being for the UK Department of Health. From 2011 to 2013 he was Chair of the UK Cabinet Office's Mutuals TaskForce. 
In 2013 and 2014 he was the Chair of the Panels reviewing Doncaster's and Birmingham's Children's Services for the Department for Education and wrote the Panels' reports.
As well as these positions, he has acted as an adviser to the President of the European Commission, the World Bank, the World Health Organisation, the OECD, HM Treasury, the UK Department of Work and Pensions and the BBC. He has been Vice-Chairman of a major teaching hospital, a Commissioner on the Commission for Health Improvement, and a non-executive director of several health authorities. He has served on many National Health Service working parties, on several think-tank commissions and on two grants boards for the Economic and Social Research Council.
He is one of the principal architect of the UK's public service reforms, empowering users and introducing contestability into health care and education. His other policy innovations include the Pupil Premium for the less well-off and for looked after children, now government policy; the Social Work Practices established by the Department for Education and the Department of Health; Patient Budgets piloted by the Department of Health; the Partnership Scheme for funding long term care endorsed by the 2005 Wanless Report Securing Good Care for Older People; and the Child Trust Fund, government policy from 2002-2010.
He writes regularly for the national and international press. He also appears frequently on television and radio, including the Today Programme, The World at One, The World Tonight and The Politics Show. He has been several times a member of Radio 4's Any Questions panel and has presented editions of Radio 4's Analysis and BBC 2's The Big Idea.
Source: The London School of Economics and Political Science 
more