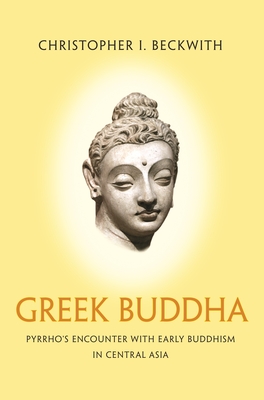 Princeton University Press
Greek Buddha: Pyrrho's Encounter with Early Buddhism in Central Asia
0

Rate this book

Key Metrics
Princeton University Press

Paperback

9780691176321

9.21 X 6.14 X 0.67 inches

1.02 pounds

History > Ancient - Greece

English
$0
Estimated Arrival:
Dec 12 -Dec 14
Available Copies:
10+ Copies

Secure Transaction
Book Description
How a Greek philosopher's encounters with Buddhism in Central Asia influenced Western philosophy
Pyrrho of Elis went with Alexander the Great to Central Asia and India during the Greek invasion and conquest of the Persian Empire in 334-324 BC. There he met with early Buddhist masters. Greek Buddha shows how their Early Buddhism shaped the philosophy of Pyrrho, the famous founder of Pyrrhonian scepticism in ancient Greece.
Christopher I. Beckwith traces the origins of a major tradition in Western philosophy to Gandhara, a country in Central Asia and northwestern India. He systematically examines the teachings and practices of Pyrrho and of Early Buddhism, including those preserved in testimonies by and about Pyrrho, in the report on Indian philosophy two decades later by the Seleucid ambassador Megasthenes, in the first-person edicts by the Indian king Devanampriya Priyadarsi referring to a popular variety of the Dharma in the early third century BC, and in Taoist echoes of Gautama's Dharma in Warring States China. Beckwith demonstrates how the teachings of Pyrrho agree closely with those of the Buddha Sakyamuni, the Scythian Sage. In the process, he identifies eight distinct philosophical schools in ancient northwestern India and Central Asia, including Early Zoroastrianism, Early Brahmanism, and several forms of Early Buddhism. He then shows the influence that Pyrrho's brand of scepticism had on the evolution of Western thought, first in Antiquity, and later, during the Enlightenment, on the great philosopher and self-proclaimed Pyrrhonian, David Hume.
Greek Buddha demonstrates that through Pyrrho, Early Buddhist thought had a major impact on Western philosophy.
Greek Buddha: Pyrrho's Encounter with Early Buddhism in Central Asia
Author Bio
Professor Beckwith has taught at Indiana University for 41 years, in which time he has developed 48 distinct courses. He is one of the most prolific and versatile researchers in the field of Central Eurasian studies. 
Beckwith is renowned for revolutionary scholarship that reshapes understanding of how, why and when the Central Eurasian steppe peoples from Eastern Europe to East Asia influenced the development of knowledge, religious beliefs and societies, not only within their homeland but in the neighboring peripheral cultures of Europe, the Middle East, South Asia, and East Asia as well. 
His research focuses on the history of ancient and medieval Central Asia and the cultures of those peripheral peoples, as well as the linguistics of Aramaic, Chinese, Japanese, Koguryo, Old Tibetan, Tokharian, Old Turkic, Uzbek, and other languages.
He has been named a MacArthur Fellow, a Guggenheim Fellow, a Fulbright-Hays Fellow, and a Japan Foundation fellow and has had numerous visiting appointments around the United States and the world. He has authored 10 books and 49 articles.
Source: Indiana University Bloomington
more