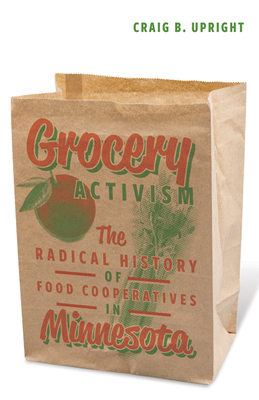 University of Minnesota Press
Grocery Activism: The Radical History of Food Cooperatives in Minnesota
0

Rate this book

Key Metrics
University of Minnesota Press

Paperback

9781517900731

8.5 X 5.5 X 0.7 inches

0.8 pounds

Social Science > Agriculture & Food (see also Political Science - Public Policy - Agricultur

English
$0
Available Copies:
0 Copies

Secure Transaction
Book Description
A key period in the history of food cooperatives that continues to influence how we purchase organic food today
Our notions of food co-ops generally don't include images of baseball bat-wielding activists in the aisles. But in May 1975, this was the scene as a Marxist group known as the Co-op Organization took over the People's Warehouse, a distribution center for more than a dozen small cooperative grocery stores in the Minneapolis area. The activist group's goal: to curtail the sale of organic food. The People's Warehouse quickly became one of the principal fronts in the political and social battle that Craig Upright explores in Grocery Activism. The story of the fraught relationship of new-wave cooperative grocery stores to the organic food industry, this book is an instructive case study in the history of activists intervening in capitalist markets to promote social change.
Focusing on Minnesota, a state with both a long history of cooperative enterprise and the largest number of surviving independent cooperative stores, Grocery Activism looks back to the 1970s, when the mission of these organizations shifted from political activism to the promotion of natural and organic foods. Why, Upright asks, did two movements--promoting cooperative enterprise and sustainable agriculture--come together at this juncture? He analyzes the nexus of social movements and economic sociology, examining how new-wave cooperatives have pursued social change by imbuing products they sell with social values. Rather than trying to explain the success or failure of any individual cooperative, his work shows how members of this fraternity of organizations supported one another in their mutual quest to maintain fiscal solvency, promote better food-purchasing habits, support sustainable agricultural practices, and extol the virtues of cooperative organizing. A foundational chapter in the history of organic food, Grocery Activism clarifies the critical importance of this period in transforming the politics and economics of the grocery store in America.
Grocery Activism: The Radical History of Food Cooperatives in Minnesota
Author Bio
Craig Upright joined the Sociology Department in the fall of 2011. He regularly teaches sections of Sociology 150 (Introduction to Sociology), Sociology 216 (Social Problems), 334 (Sociology of Education), Sociology 423 (Race Relations), and Sociology 431 (Social Class and Power). He has twice received the "Professor of the Year" award from the WSU Student Senate.
His first book, Grocery Activism: The Radical History of Food Cooperatives in Minnesota, was published by the University of Minnesota Press in the spring of 2020; it explores the role that cooperative grocery stores played in the development of the contemporary organic food industry. His current research examines how the social construction of food labels reflect the ideologies of contemporary social movements.
Dr. Upright's interest in food production and consumption issues stem from his experiences in the restaurant industry. Following his graduation from St. Olaf College with a degree in mathematics and English literature, he spent several years as a chef and purchasing agent for several fine-dining restaurants in Minneapolis. He opened a small café in St. Paul named "Motor Oil Industrial Coffees" next to an alternative art gallery, where punk- and alternative-rock bands played in the basement on weekends.
Dr. Upright chose sociology as the discipline in which he could most effectively teach undergraduates about the opportunities for learning about and engaging in their own cultures. Before coming to WSU, he taught at the University of St. Thomas and Hamline University in St. Paul and at Grinnell College in central Iowa. Beyond cooking (and eating), Dr. Upright enjoys reading, writing, a little arithmetic, bowling, and riding his motorcycle exploring country roads of southeastern Minnesota.
Source: Winona State University 
more
Videos