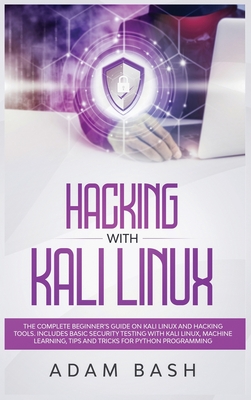 Charlie Creative Lab
Hacking With Kali Linux: The Complete Beginner's Guide on Kali Linux and Hacking Tools. Includes Basic Security Testing with Kali Linux, Machine Learning, Tips and Tricks for Python Programming
0

Rate this book

Key Metrics
Charlie Creative Lab

Hardcover

9781801545914

9.02 X 5.98 X 0.44 inches

0.86 pounds

Computers > Software Development & Engineering - Computer Graphics

English
$0
Available Copies:
0 Copies

Secure Transaction
Book Description
If you want to learn the art of hacking, then keep reading...
This book explains Hacking using an operating system that is created for this sole purpose. We start with an introduction to the world of hacking along with a lot of examples and processes that hackers use in their real life testing methods. As a hacker, one needs to understand basic Linux commands along with bash and python scripting. This book has provided a lot of bash and python examples that will make you start with the hacking scripting. In the next chapters, we have discussed about Network management, process management and several other parts of Linux architecture in detail. In the subsequent chapter, a whole section is dedicated about VPN and Tor network. We have explained everything in Layman's concept along with a lot of examples. Apart from this in the last chapter, we have made a whole new strategy to attack web using Burp suite an important kali Linux tool. Below we will explain about the exciting parts of the book without any delay.Find out what are the gems you can find in this book below.
Hacking process along with clear instructions. This is more like a starting tip for the beginner hackersInstallation of virtual machine VM ware and Installation of kali Linux in detail.Bash scripting with a lot of examples. We will explain variables, conditionals and looping in Bash scripting.Python scripting with a lot of examples. We will explain variables, classes, objects in python scripting.Network management and a lot of methods to spoof addressesProcess management along with examples. We give so many methodologies to kill a process and prioritizing processes.Description about the Logging system and its usesAutomating tasksAbout TOR bundle, Vpn and Proxy chainsWeb hacking using the Burp suite
Even if you've never used Linux, you can learn it quickly.
Why are you waiting still? Go grab this hell of a hacking book now.Scroll up and click BUY NOW button!
Hacking With Kali Linux: The Complete Beginner's Guide on Kali Linux and Hacking Tools. Includes Basic Security Testing with Kali Linux, Machine Learning, Tips and Tricks for Python Programming