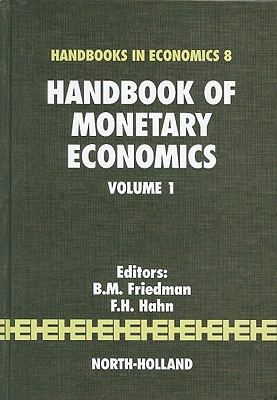 North-Holland
Handbook of Monetary Economics, Volume 1
0

Rate this book

Key Metrics
North-Holland

Hardcover

9780444880253

9.5 X 6.6 X 1.5 inches

3.35 pounds

Business & Economics > Money & Monetary Policy

English
$0
Available Copies:
0 Copies

Secure Transaction
Book Description
Due to the fundamental two-way interaction between the theoretical and the empirical aspects of monetary economics, together with the relationship of both to matters of public policy, any organization of material comprehensively spanning the subject is bound to be arbitrary. The 23 surveys commissioned for this Handbook have been arranged in a way that the editors feel reflects some of the most important logical divisions within the field and together they present a comprehensive account of the current state of the art. The Handbook is an indispensable reference work which should be part of every professional collection, and which makes ideal supplementary reading for graduate economics students on advanced courses.
For more information on the Handbooks in Economics series, please see our home page on http: //www.elsevier.nl/locate/hes

Handbook of Monetary Economics, Volume 1
Author Bio
Benjamin M. Friedman is the William Joseph Maier Professor of Political Economy, and formerly Chairman of the Department of Economics, at Harvard University. He joined the Harvard faculty in 1972.
Mr. Friedman's newest book, to be published by Knopf in January 2021, is Religion and the Rise of Capitalism – a fundamental reassessment of the foundations of current-day economics, showing how religious thinking has shaped economic thinking ever since the beginnings of modern Western economics and how this influence continues to be relevant today especially in the United States. His two other general interest books have been The Moral Consequences of Economic Growth (Knopf) and Day of Reckoning: The Consequences of American Economic Policy Under Reagan and After (Random House).
In addition to these works for the general public, Mr. Friedman has also written and/or edited fourteen other books, and more than 150 articles in professional journals, aimed primarily at economists and economic policymakers. Much of this work has focused on economic policy, and in particular on the role of the financial markets in shaping how monetary and fiscal policies affect overall economic activity. Specific subjects of this work have included the effects of government budget deficits, guidelines for the conduct of U.S. monetary policy, and appropriate policy actions in response to crises in a country's banking or financial system. Mr. Friedman is also a frequent contributor to publications reaching a broader audience, including especially The New York Review of Books.
Mr. Friedman's current professional activities include serving as a director of the Private Export Funding Corporation, a trustee of the Pioneer Funds, and a director of the Council for Economic Education. He was also a long-time director and member of the editorial board of the Encyclopaedia Britannica. He is a fellow of the American Academy of Arts and Sciences and a member of the Council on Foreign Relations.
Mr. Friedman received the A.B., A.M. and Ph.D. degrees in economics from Harvard University; during his graduate study at Harvard he was a Junior Fellow of the Society of Fellows. In addition, he received the M.Sc. degree in economics and politics from King's College, Cambridge (U.K.), where he studied as a Marshall Scholar. Among other distinctions, he has received the George S. Eccles Prize, awarded annually for excellence in writing about economics; the John R. Commons Award, given every two years in recognition of contributions to economics; and the Medal of the Italian Senate.
Source: Harvard University 
more