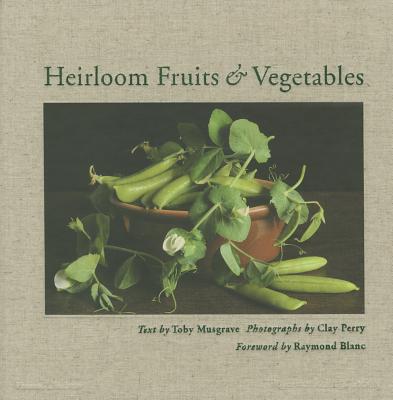 Thames & Hudson
Heirloom Fruits & Vegetables
0

Rate this book

Key Metrics
Thames & Hudson

Hardcover

9780500516188

11.2 X 11.2 X 1 inches

4.15 pounds

Gardening > Fruit

English
$0
Available Copies:
0 Copies

Secure Transaction
Book Description
Fruits and vegetables have been a central part of our diets since time immemorial, and the history of their cultivation is rich with intriguing facts: Samuel Pepys's diary entry for August 22, 1663, reveals that Mr Newburne is dead of eating Cowcoumbers (cucumbers); many tomato varieties were first bred in the United States and are still available, fromStriped German to Pink Ping Pong to Zapotec.
Today, numerous traditional fruit and vegetable varieties--the so-called heirloom or heritage varieties---are disappearing, a catastrophic loss of horticultural heritage and genetic diversity. But gardeners have reason to be optimistic. A group of dedicated growers around the world is seeking to conserve surviving heritage varieties for their significant advantages over newer cultivars: they are more adaptable, they have good storage properties, and they often have a superior taste.
Presented by season, this overview first tells the story of the cultivation of fruits and vegetables through the ages, and then each type is discussed: where it originated, indigenous uses and folklore, how it got its name, legends and beliefs that have become attached to it, and the odd uses to which it has been put.
Heirloom Fruits & Vegetables
Author Bio
Dr. Toby Musgrave is a plants and gardens historian, independent scholar, and consultant. He is the author or coauthor of eighteen books, including The Plant Hunters, An Empire of Plants, The Head Gardeners, Paradise Gardens, Heritage Fruits and Vegetables and The Garden.
Education
B.Sc. in Horticulture
Ph.D. in Garden History (thesis: Innovation and the Evolution of the British Garden, 1919-39)
Author & Photographer 
Paradise Gardens (2015), Heritage Fruits & Vegetables (2012), The Head Gardeners (2007), Fra Vildnis til Paradis (2007), The Seven Deadly Sins of Gardening (2006), Cottage Gardens (2004), Courtyard Gardens (2000), Empire of Plants (2000), The Plant Hunters (1998).
Major contributor to: The Gardener's Garden (Consultant Editor), The Contemporary Garden (2009), The English Garden (2008), 1001 Gardens to Visit Before you Die (2007), The Garden Book (2000).
Author of the horticultural content for the Educational Television Award-winning and BAFTA-nominated How to be a Gardener website (BBC, 2001).   
Author of over 100 articles published in diverse British and Danish periodicals and 500 newspaper articles in Britain and Denmark.
Many articles and his book Fra Vildnis are illustrated with Toby's photographs
Source: Yale University Press and tobymusgrave.com
more
Videos