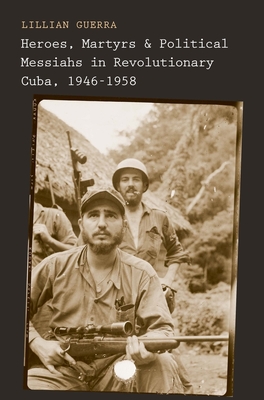 Yale University Press
Heroes, Martyrs, and Political Messiahs in Revolutionary Cuba, 1946-1958
0

Rate this book

Key Metrics
Yale University Press

Hardcover

9780300175530

9.2 X 6.4 X 1.1 inches

1.4 pounds

History > Caribbean & West Indies - Cuba

English
$0
Available Copies:
0 Copies

Secure Transaction
Book Description
A leading scholar sheds light on the experiences of ordinary Cubans in the unseating of the dictator Fulgencio Batista
In this important and timely volume, one of today's foremost experts on Cuban history and politics fills a significant gap in the literature, illuminating how Cuba's electoral democracy underwent a tumultuous transformation into a military dictatorship. Lillian Guerra draws on her years of research in newly opened archives and on personal interviews to shed light on the men and women of Cuba who participated in mass mobilization and civic activism to establish social movements in their quest for social and racial justice and for more accountable leadership. Driven by a sense of duty toward la patria (the fatherland) and their dedication to heroism and martyrdom, these citizens built a powerful underground revolutionary culture that shaped and witnessed the overthrow of Batista in the late 1950s. Beautifully illustrated with archival photographs, this volume is a stunning addition to Latin American history and politics.
Heroes, Martyrs, and Political Messiahs in Revolutionary Cuba, 1946-1958
Author Bio
Professor Lillian Guerra is the author of many scholarly articles, works of public scholarship and essays as well as four published books of history: Popular Expression and National Identity in Puerto Rico (University Press of Florida, 1998), The Myth of José Martí: Conflicting Nationalisms in Early Twentieth-Century Cuba (University of North Carolina Press, 2005), and Visions of Power in Cuba: Revolution, Redemption and Resistance, 1959-1971 (University of North Carolina Press, 2012). 
Visions of Power in Cuba received the 2014 Bryce Wood Book Award from the Latin American Studies Association, its most prestigious prize for a book on Latin America across all fields. Dr. Guerra's fourth book, published by Yale University Press in 2018, is titled Heroes, Martyrs and Political Messiahs in Revolutionary Cuba, 1946-1958. 
She is currently completing a fifth book of history, Patriots and Traitors in Cuba: Political Pedagogy, Rehabilitation and Vanguard Youth, 1961-1981, under contract with Duke University Press.
Beginning in August 2020 through July 2021, Professor Guerra will complete the writing of this book through the support of a National Endowment for the Humanities Fellowship. Among recent works of public interest are Guerra's articles in NACLA, the American Historical Association's Perspectives, Newsweek in Latin America, the prestigious literary and news journal Letras Libres published in Mexico City, and most recently, The New York Times.
Guerra's creative writings include contributions to the work of Pulitzer-prize-winning photographer Alex Harris and photographer Cathryn Griffith as well as three collections of Spanish-language poetry, published in Quito, Ecuador, Havana, Cuba and Cimarrona (2013), published by Editorial Verbum in Madrid, Spain. She has also published a book of short stories, Cartografía Corporal with Editorial Verbum in 2014.
In 2014-2015, Guerra has received the John Simon Guggenheim Fellowship and the American Council of Learned Societies Fellowship. At the University of Florida, she has held the Waldo W. Neikirk term professorship for excellence in teaching at the University of Florida (2016-2019) and the University of Florida's Research Foundation Professorship (2017-2020) for superb scholarship. 
The daughter of Cubans who came to the United States in 1965, Guerra was born in New York City and grew up in Marion, Kansas until her family moved to Miami, Florida she was fourteen. There she attended Gulliver Academy and Ransom Everglades School but left high school a year before graduating to attend Dartmouth College. She received her Ph.D. degree in history from the University of Wisconsin and has taught Cuban, Caribbean and Latin American history at Bates College (2000-2004), Yale University (2004-2010), and the University of Florida (2010-present).
Source: University of Florida Department of History 
more