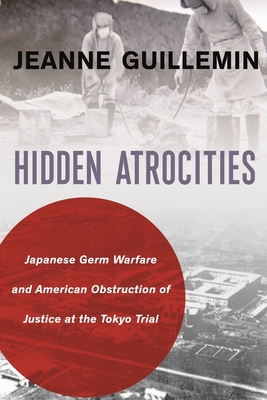 Jeanne Guillemin

Columbia University Press
Hidden Atrocities: Japanese Germ Warfare and American Obstruction of Justice at the Tokyo Trial
0

Rate this book

Key Metrics
Jeanne Guillemin

Columbia University Press

Hardcover

9780231183529

9.1 X 6.4 X 1.4 inches

1.8 pounds

Law > International

English
$0
Estimated Arrival:
Sep 21 -Sep 23
Available Copies:
10+ Copies

Secure Transaction
Book Description
In the aftermath of World War II, the Allied intent to bring Axis crimes to light led to both the Nuremberg trials and their counterpart in Tokyo, the International Military Tribunal of the Far East. Yet the Tokyo Trial failed to prosecute imperial Japanese leaders for the worst of war crimes: inhumane medical experimentation, including vivisection and open-air pathogen and chemical tests, which rivaled Nazi atrocities, as well as mass attacks using plague, anthrax, and cholera that killed thousands of Chinese civilians. In Hidden Atrocities, Jeanne Guillemin goes behind the scenes at the trial to reveal the American obstruction that denied justice to Japan's victims. Responsibility for Japan's secret germ-warfare program, organized as Unit 731 in Harbin, China, extended to top government leaders and many respected scientists, all of whom escaped indictment. Instead, motivated by early Cold War tensions, U.S. military intelligence in Tokyo insinuated itself into the Tokyo Trial by blocking prosecution access to key witnesses and then classifying incriminating documents. Washington decision makers, supported by the American occupation leader, General Douglas MacArthur, sought to acquire Japan's biological-warfare expertise to gain an advantage over the Soviet Union, suspected of developing both biological and nuclear weapons. Ultimately, U.S. national-security goals left the victims of Unit 731 without vindication. Decades later, evidence of the Unit 731 atrocities still troubles relations between China and Japan. Guillemin's vivid account of the cover-up at the Tokyo Trial shows how without guarantees of transparency, power politics can jeopardize international justice, with persistent consequences.
Hidden Atrocities: Japanese Germ Warfare and American Obstruction of Justice at the Tokyo Trial
Author Bio
Jeanne Guillemin, a medical anthropologist and biological warfare expert, died on Nov. 15, 2019, at her home in Cambridge, Massachusetts. She was 76.
Guillemin received her bachelor's degree in social psychology from Harvard University in 1968 and her doctorate in sociology and anthropology from Brandeis University in 1973. She was a professor of international relations and anthropology at Boston College, where she taught for 33 years.
From 2006 until her death, she served as a senior advisor to the MIT Security Studies Program (SSP).
As well as being a researcher at HSP, Jeanne Guillemin is a Senior Advisor at the MIT Security Studies Program in Cambridge, Massachusetts, within the Center for International Studies. For many years she was a professor of medical sociology at Boston College, where she taught courses on field methods, military medicine, and the social construction of risk and danger.
The early 1980s saw the beginning of her involvement in team-based research on international biological weapons controversies. The first was the alleged Soviet-backed use of mycotoxins in Southeast Asia (dubbed "yellow rain" by the press), for which she provided analysis of interviews with purported victims and eventually co-authored articles with Matthew Meselson and Julian Perry Robinson and other project researchers.
Her next research effort in this area concerned the post Cold War 1979 anthrax outbreak in the city of Sverdlovsk (USSR). Her book, Anthrax: the investigation of a deadly outbreak (University of California Press, 1999) describes this field project, which was led by Matthew Meselson. During the crisis caused by the US 2001 anthrax postal attacks, Guillemin appeared regularly as a commentator on the national media and has been engaged in the controversy surrounding the US Bioshield program to research select agents. Her most recent book, Biological Weapons: from the invention of state-sponsored programs to contemporary bioterrorism (Columbia University Press, 2005) is a comprehensive overview of the development of these weapons and includes a summary of relevant contemporary policy.
Her latest research project, supported by the Carr Center for Human Rights at Harvard, concerns the potential conflict between national security policy and the universal protection of vulnerable populations from biological weapons. Her specific focus is the Japanese Imperial Army's biological weapons program in China (1934-1945) and the role of US national security interests in suppressing public knowledge of war crimes committed under that program.
Source: MIT News - Jan 7, 2020, The Harvard Sussex Program