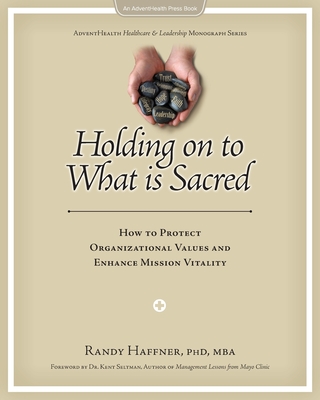 Adventhealth Press
Holding on to What Is Sacred: How to Protect Organizational Values and Enhance Mission Vitality
0

Rate this book

Key Metrics
Adventhealth Press

Paperback

9780982040973

10 X 7.99 X 0.22 inches

0.51 pounds

Medical > Hospital Administration & Care

English
$0
Available Copies:
0 Copies

Secure Transaction
Book Description
Holding On To What Is Sacred, written by Dr. Randy Haffner, lays out a persuasive vision for how organizations can stay focused on their true values. Dr. Haffner recognizes that a successful service organization is not adequately defined by its balance sheet alone. Rather, he probes for the soul of an organization and the real values that the customers recognize as integral to the products and services delivered. He then proceeds to suggest measurements that can complement the financial section of the organization's scorecard with measures pertinent to the health of the organization's soul. The idea of a Confessional Identity, or the organization's core competencies, is valuable to leaders in both corporations and not-for-profit organizations.
Confessional Identity pinpoints the very essence of mission. It transcends trendy corporate speak and seeks the spiritual heart of an organization's reason for being. Haffner pulls from research on corporations and higher education institutions to reveal how core convictions must be well articulated and be wholistically applied. To have wholistic adherence, the vast majority of associates must understand the core convictions (mind), exhibit behaviors consistent with those core convictions on a daily basis (body) as well as have an emotional connection with the core convictions that brings meaning to the tasks at hand (spirit),
The AdventHealth Healthcare & Leadership Monograph Series is an innovative teaching and learning tool from the largest admitting hospital in America. Ideal for healthcare professionals, leadership innovators, researchers, teachers, students, and other pioneering professionals--each volume provides focused, relevant training for individuals and organizations with break-through thinking on a wide variety of healthcare and leadership topics.
The monograph series includes a number of unique features that make them:
Authoritative - All monographs are written by leading experts in their field and peer reviewed for publication.
Practical - With an emphasis on outcomes, each monograph moves beyond theory to focus on providing useful solutions professionals can put into practice right away and experience results.
Concise - Each volume covers its topic succinctly--usually in 75 pages or less. Brief, but never shallow, they are perfect for busy professionals seeking fresh insights in under two hours.
Holistic - Monographs seek to cover each topic from a Whole Person Health perspective. That is, recognition that health, healing and personal growth occur best in an environment where mind, body and spirit are nurtured.
Holding on to What Is Sacred: How to Protect Organizational Values and Enhance Mission Vitality