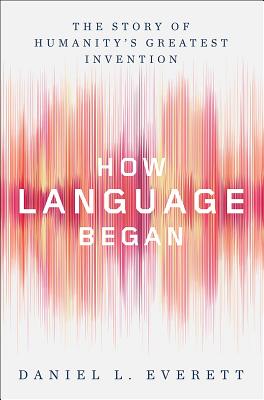 How Language Began:The Story of Humanity's Greatest Invention
Interview with Daniel L Everett
February 15, 2018
Sign Up to listen to full interview.
About Daniel L Everett
Daniel L. (Dan) Everett holds a ScD and a Masters of Linguistics from the Universidade Estadual in Campinas (UNICAMP), both based upon years of field research among the Pirahã people of the Brazilian Amazon jungle. He taught as an instructor and later Assistant Professor at UNICAMP, 1981-1986, until leaving Brazil to return to the USA. He next was appointed full professor of linguistics and anthropology at the University of Pittsburgh, where he also chaired the Department of Linguistics until 1999. At that time, Dan moved to the Amazon to live the majority of the next three years in the jungle among the Pirahãs. He left the jungle when the University of Manchester, England, offered him the position of Professor of Phonetics and Phonology. Following several years in England, Dr. Everett spent the 2005-2006 academic year as a visiting scientist at the Max Planck Institute for Evolutionary Anthropology in Leipzig, Germany. He went on to chair the Department of Languages, Literatures, and Cultures at Illinois State University from 2006 - 2010. Since 2010 he has been the Dean of Arts and Sciences at Bentley University. Everett has lived in the Amazonian jungle for nearly eight out of the last thirty years, studying more than a dozen little or never previously studied Amazonian languages. He has published more than 100 scientific articles as sole author and eleven books. In 2008 his book, Don't Sleep There are Snakes: Life and Language in the Amazonian Jungle, was published in eight languages, becoming a best-seller in English, Japanese, Mandarin, Korean, and German. That book was selected by National Public Radio in the US as one of the best books of 2009. It was also selected by Blackwells booksellers in the UK as one of the best books in the UK for 2009. Everett's newest book, Language: The Cultural Tool, was published in 2012. It has been reviewed in various publications, published in three languages, and was a NY Times Editor's Choice. Dan has appeared numerous times on the BBC and NPR, and has been profiled in newspapers around the world. A documentary about his life and work, The Grammar of Happiness, was released in 2012. Essential Media of Australia has signed an option to produce a large budget dramatic movie based on Don't Sleep There are Snakes. Dr. Everett is currently writing a book titled Dark Matter of the Mind: How Unseen Forces Shape our Words and World, for the University of Chicago Press and has begun work on How Language Began, a book on language evolution for the general public.
more
Interview Summary
All animals communicate, yet only humans have language. With this sophisticated verbal instrument, we convey our inventions, progress and accumulate knowledge, an innate human faculty.
In How Language Began, Daniel L Everett, a linguistics professor with decades of field research experience, argues that, while there are no speech fossils, artefacts of sufficient complexity reveal that language is not such a recent development in human history. Shaped by evolution and invention over hundreds of thousands of years, language materializes communication by incorporating symbols that have culturally agreed meaning and culturally accepted form.
In this engrossing book, Everett suggests that "language began with Homo erectus more than one million years ago, and has existed for 60,000 generations," unlike other scholars who maintain that it emerged with Homo sapiens about 50,000 to 100,000 years ago. Additionally, Everett dissents from traditional views and argues that what is perceived as a "language instinct" is, in fact, a culturally acquired invention.
Everett has spent more than 30 years in the Amazon rainforest studying a remote tribe called the Pirahã, a hunter-gatherer community of only several hundred people living in the tradition of their ancestors. Using this invaluable research to develop his broader theory of language, Everett emphasizes that early symbols of language were developed by common experience, which provided the necessary impetus for accumulating knowledge and advancing culture. In other words, culture and language are inseparable. 
Key Topics
Why do animals communicate but only humans have language?
What are the origins and nature of language?
How does the brain make language possible?
Where does grammar come from?
How did language become vital for the survival and domination of humans on this planet?
Is there a "language instinct?"
How strong is the link between language and culture?
Other Books by Author