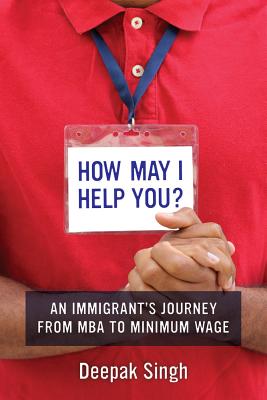 University of California Press
How May I Help You?: An Immigrant's Journey from MBA to Minimum Wage
0

Rate this book

Key Metrics
University of California Press

Paperback

9780520293311

8.27 X 5.51 X 0.64 inches

0.78 pounds

Social Science > Social Classes & Economic Disparity

English
$0
Estimated Arrival:
Oct 4 -Oct 6
Available Copies:
10+ Copies

Secure Transaction
Book Description
In this moving and insightful work, Deepak Singh chronicles his downward mobility as an immigrant to a small town in Virginia. Armed with an MBA from India, Singh can get only a minimum-wage job in an electronics store. Every day he confronts unfamiliar American mores, from strange idioms to deeply entrenched racism.
Telling stories through the unique lens of an initially credulous outsider who is fresh off the plane, Singh learns about the struggles of his colleagues: Ron, a middle-aged African-American man trying to keep his life intact despite health concerns; Jackie, a young African-American woman diligently attending school after work; and Cindy, whose matter-of-fact attitude helps Deepak adapt to his job and his new life.
How May I Help You? is an incisive take on life in the United States and a reminder that the stories of low-wage employees can bring candor and humanity to debates about work, race, and immigration.
How May I Help You?: An Immigrant's Journey from MBA to Minimum Wage
Author Bio
Deepak Singh is a writer, radio producer, and journalist. He is a frequent contributor to PRI's The World and has written for The New York Times, NPR, The Boston Globe and The Atlantic.
Source: University of California Press 
Coming to the U.S. can knock immigrants' careers off track for years. For new arrivals, integration is often an important part of achieving financial stability, as studies of upward and downward economic mobility have documented.
Deepak Singh grew up in northern India. He had a bachelor's degree in commerce, an MBA, and a job with the BBC World Service in his hometown of Lucknow. Unexpectedly, he met a young woman visiting from western Pennsylvania at a local library; the two fell in love, got married, and decided that Singh would move to Virginia, where she was attending graduate school.
In his new book, How May I Help You?: An Immigrant's Journey From M.B.A. to Minimum Wage, Singh chronicles his move to small-town Virginia, where he started working a job in retail.* The book reads like an ethnography, documenting Singh's work experience, his colleagues, and his surroundings, and includes reflections on how the job taught him about American mores and norms. Though Singh was doing minimum-wage work, his book is not a story of poverty, but rather an account of the daily grind of America's service workers through the lens of an immigrant with an MBA.
Singh is now a journalist again (and he's written for The Atlantic). I recently spoke with him about why he wrote How May I Help You?, what he gained from the experience, and the skills it takes to sell things in America. A lightly edited transcript of our conversation follows.
Source: The Atlantic
more