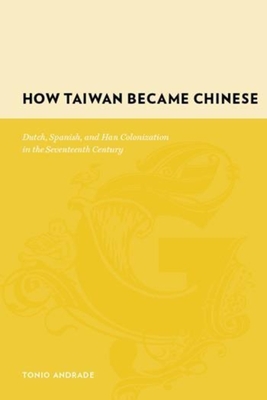 Columbia University Press
How Taiwan Became Chinese: Dutch, Spanish, and Han Colonization in the Seventeenth Century
0

Rate this book

Key Metrics
Columbia University Press

Hardcover

9780231128551

9.1 X 6.1 X 1.1 inches

1.4 pounds

History > Asia - China

English
$0
Estimated Arrival:
Dec 12 -Dec 14
Available Copies:
10+ Copies

Secure Transaction
Book Description
At the beginning of the 1600s, Taiwan was a sylvan backwater, sparsely inhabited by headhunters and visited mainly by pirates and fishermen. By the end of the century it was home to more than a hundred thousand Chinese colonists, who grew rice and sugar for export on world markets. This book examines this remarkable transformation. Drawing primarily on Dutch, Spanish, and Chinese sources, it argues that, paradoxically, it was Europeans who started the large scale Chinese colonization of the island: the Spanish, who had a base on northern Taiwan from 1626 to 1642, and, more importantly, the Dutch, who had a colony from 1623 to 1662. The latter enticed people from the coastal province of Fujian to Taiwan with offers of free land, freedom from taxes, and economic subventions, creating a Chinese colony under European rule.
Taiwan was thus the site of a colonial conjuncture, a system that the author calls co-colonization. The Dutch relied closely on Chinese colonists for food, entrepreneurship, translation, labor, and administrative help. Chinese colonists relied upon the Dutch for protection from the headhunting aborigines and, sometimes, from other Chinese groups, such as the pirates who ranged the China Seas.
In its analysis the book sheds light on one of the most important questions of global history: how do we understand the great colonial movements that have shaped our modern world? By examining Dutch, Spanish, and Han colonization in one island, it offers a compelling answer: Europeans managed to establish colonies throughout the globe not primarily because of technological superiority but because their states sponsored overseas colonialism whereas Asian states, in general, did not. Indeed, when Asian states did, European colonies were vulnerable, and the book ends with the capture of Taiwan by a Chinese army, led by a Chinese warlord named Zheng Chenggong.
How Taiwan Became Chinese: Dutch, Spanish, and Han Colonization in the Seventeenth Century
Author Bio
I'm part of a new field in historical studies known as Global History, which focuses on commonalities and connections between the myriad societies on the planet rather than on traditionally-defined political or cultural units. My core geographical area of expertise is China, but my research focuses on interconnections in the Early Modern Period (1500-1800) and on comparative history. 
The main question that fascinates me is: Why did western Europeans, who sat on the far edge of Eurasia and were backward by Asian standards, rise to global prominence starting in the 1500s, establishing durable maritime empires that spanned the seas?
My first book, How Taiwan Became Chinese (2007), examined how Dutch, Spanish, and Chinese colonization met and competed in the Far East and asked why it was that the Chinese prevailed over the Europeans rather than the other way around, suggesting that political will – that is to say state support for expansion – was a key variable. My second book, Lost Colony (2011), examined the Sino-Dutch War of 1661-1668, Europe's first war with China and the only significant Sino-European conflict until the Opium War of 1839–42. 
It asked whether Europeans had – at this early date – any significant advantages in military and naval technology over China and concluded that they did, although not perhaps in the areas people might have expected. My third book, The Gunpowder Age (2016), looked more deeply into China's military past, comparing it to that of Europe, and showing that China's China's dynamism was deeper, longer lasting, and more quickly recovered than has long been believed.
Books 
The Gunpowder Age: China, Military Innovation, and the Rise of the West in World History (Princeton, 2016) 
Lost Colony: The Untold Story of Europe's First War with China (Princeton, 2011)
How Taiwan Became Chinese (Columbia University Press, 2007)
Articles in Journal of World History, Late Imperial China, Canadian Journal of Sociology, Itinerario, and Journal of Asian Studies, among others. Honors include The John Simon Guggenheim Fellowship and the Gutenberg-e Prize.
I accept Ph.D. students not just in Chinese history but also in the history of early modern European colonialism.
Syllabus for History 260: East Asia, 1500 to the Present
Emory Endeavors in World History (undergraduate history journal)

Education
 
BA, Reed College, 1992.
MA, University of Illinois, Urbana- Champaign, 1994.
MA, Yale University, 1997.
MPhil, Yale University, 1998.
PhD, Yale University, 2000.
 
Interests
 
Chinese history
Source: Emory College of Arts & Sciences
more