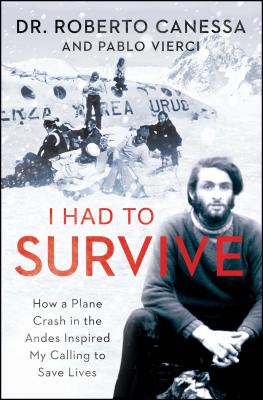 Roberto Canessa

Atria Books
I Had to Survive: How a Plane Crash in the Andes Inspired My Calling to Save Lives
0

Rate this book

Key Metrics
Roberto Canessa

Atria Books

Paperback

9781476765457

8.3 X 5.5 X 1 inches

0.6 pounds

Biography & Autobiography > Medical (Incl. Patients)

English
$0
Estimated Arrival:
Sep 27 -Sep 29
Available Copies:
3 Copies

Secure Transaction
Book Description
Dr. Roberto Canessa recounts his side of the famous 1972 plane crash of Uruguayan Air Force Flight 571 in the Andean Mountains and how, decades later, the harrowing journey to survive propelled him to become one of the world's leading pediatric cardiologists, seeing in his patients the same fierce will to live he witnessed in the Andes. As he tended to his wounded Old Christians teammates amidst the devastating carnage, rugby player Roberto Canessa, a second-year medical student at the time, realized that no one on earth was luckier: he was alive--and for that, he should be eternally grateful. As the starving group struggled beyond the limits of what seemed possible, Canessa played a key role in safeguarding his fellow survivors, eventually trekking with a companion across the hostile mountain range for help. No one could have imagined that there were survivors from the accident in such extreme conditions. Canessa's extraordinary experience on the fine line between life and death became the catalyst for the rest of his life. This uplifting tale of hope and determination, solidarity and ingenuity, gives vivid insight into the world-famous story that inspired the movie Alive! Canessa also draws a unique and fascinating parallel between his work as a doctor diagnosing very complex congenital cardiopathies in unborn and newborn infants and the difficult life-changing decisions he was forced to make in the Andes. With grace and humanity, Canessa prompts us to ask ourselves: what do you do when all the odds are stacked against you?
I Had to Survive: How a Plane Crash in the Andes Inspired My Calling to Save Lives
Author Bio
Internationally renowned cardiologist Roberto Canessa was born in Uruguay in 1953. In October 1972 Roberto was a member of a Uruguayan rugby team flying to a match in Chile when their plane crashed in the Andes, killing most of the 45 passengers. Rescue attempts proved futile and the group was given up for dead.
After enduring two months battling gruesome conditions—extreme cold, severely injured teammates, an avalanche, and a mounting death toll—Roberto and fellow teammate Nando Parrado made the epic decision to cross through the wall of mountains to find help for their 14 remaining teammates. After ten days of trekking, Roberto and Nando emerged from the mountains just before Christmas, to the astonishment of the world, and the remaining passengers were rescued.
As a 19-year-old medical student during their ordeal, Roberto proved to be a natural leader, from giving first aid to the wounded, to improvising survival tools, to providing scientific support to the idea of using the dead bodies of their friends as nourishment and then performing the terrible task of cutting and swallowing the first piece of flesh.
I Had to Survive, published by Atria Books in English and Spanish on March 1, is Roberto's moving personal account of this harrowing ordeal and its aftermath. Based on Pablo Vierci's extensive interviews with Roberto, his family, and many of his patients, the book reveals how Roberto's path to survival went on to inspire his lifelong work as a pediatric cardiologist in Uruguay. Working in conjunction with outstanding cardiologists throughout the world, Roberto Canessa has dedicated his career to finding ways to save the lives of infants born with severe heart defects that were previously deemed hopeless.
Roberto graduated from the Universidad de la Republica Oriental del Uruguay with a degree in cardiology and pediatric cardiology. He was awarded the Premio Nacional in Medicine in 1986 and the Gran Premio in Medicine in 1991 and 1999. Roberto currently is a prominent pediatric cardiologist in Uruguay, where he works at the Hospital Italiano as director of the Department of Cardiac Ultrasound and the Department of Prenatal Diagnosis of Congenital Heart Diseases. He teaches postgraduate courses in Pediatric Cardiology at the Uruguay Faculty of Medicine, and directs non-invasive evaluation for the Heart Transplant Donors Program as well as research in the Fetal Cardiology program.
In June 14 2015, Dr. Canessa was named Honorary Fellow of the American Society of Echocardiography (ASE).Dr. Canessa has spoken at numerous universities and organizations throughout the world, including: Harvard University, MIT Sloan School of Management, The Wharton School, Universidad Pontificia de Salamanca (Spain), Instituto Tecnológico de Monterrey, YPO Guadalajara (México),The Royal College of Surgeons (England), the America Heart Association's William J. Rashkind Memorial Lecture, the Mannheim Conference of the 46th Congress of the European Association of Congenital Cardiologists (Istanbul), Daicoff Lecture Chicago, Max Planck Institute (Germany), Association of Bone and Joint Surgeons Annual Meeting (New York).He has also been a motivational speaker, addressing various groups, including: Chargeurs en Francia, HSBC, Johnson & Johnson, Kimberly Clark, Pepsico, Prudential, Mars, Coca-Cola, IBM, Oracle, General Motors, Pricewaterhouse Coopers, Astra Zeneca, Abbott.
Source: drcanessa.com