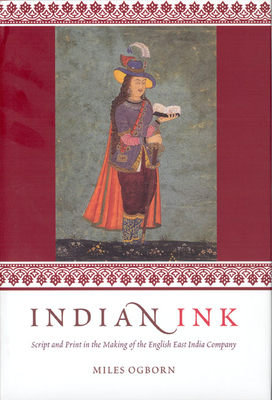 University of Chicago Press
Indian Ink: Script and Print in the Making of the English East India Company
0

Rate this book

Key Metrics
University of Chicago Press

Hardcover

9780226620411

9.08 X 6.4 X 1.01 inches

1.28 pounds

History > Asia - India & South Asia

English
$0
Available Copies:
0 Copies

Secure Transaction
Book Description
A commercial company established in 1600 to monopolize trade between England and the Far East, the East India Company grew to govern an Indian empire. Exploring the relationship between power and knowledge in European engagement with Asia, Indian Ink examines the Company at work and reveals how writing and print shaped authority on a global scale in the seventeenth and eighteenth centuries.
Tracing the history of the Company from its first tentative trading voyages in the early seventeenth century to the foundation of an empire in Bengal in the late eighteenth century, Miles Ogborn takes readers into the scriptoria, ships, offices, print shops, coffeehouses, and palaces to investigate the forms of writing needed to exert power and extract profit in the mercantile and imperial worlds. Interpreting the making and use of a variety of forms of writing in script and print, Ogborn argues that material and political circumstances always undermined attempts at domination through the power of the written word.
Navigating the juncture of imperial history and the history of the book, Indian Ink uncovers the intellectual and political legacies of early modern trade and empire and charts a new understanding of the geography of print culture.
Indian Ink: Script and Print in the Making of the English East India Company
Author Bio
I am an historical geographer concerned with understanding the relationships between power, space and knowledge (or communication) in a range of mainly eighteenth-century contexts. My work has dealt with the new geographies of eighteenth-century London, and trying to understand them as Spaces of Modernity (1998). It has also investigated the ways in which the English East India Company used a variety of forms of writing (Indian Ink, 2007) to construct a global trading network and territorial empire in India from 1600 to 1800. 
This was the same broad timespan for my attempt to write an introduction to global history through biography in Global Lives (2008). My most recent book (The Freedom of Speech: Talk and Slavery in the Anglo-Caribbean World, 2019) investigates how different forms of talk – such as evidence giving in court, discussions of the plants that grew on the islands, and communications with the world of gods and spirits – demonstrate the complexities of the power relations of slavery and empire (see my discussion of 'Slavery, Freedom and the Jamaican Landscape' on the British Library's Picturing Places webspace).
One element of this work was presented in the session on Historical and Cultural Geographies of Story and Storytelling at the RGS-IBG conference in Exeter in September 2015. It is a paper called 'We cannot but speak the thing, which we have seen and heard: believing stories in Caribbean slave societies'. Hear it here: Stories in Caribbean slave societies
You can hear me talking about some of the broader themes here: VODCAST "What is Intellectual Geography?" Miles Ogborn's keynote address to the Intellectual Geography Conference, Oxford, September 2011.
Source: Queen Mary University of London
more