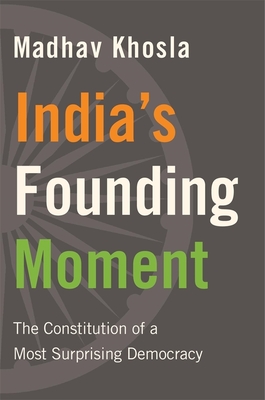 Madhav Khosla

Harvard University Press
India's Founding Moment: The Constitution of a Most Surprising Democracy
0

Rate this book

Key Metrics
Madhav Khosla

Harvard University Press

Hardcover

9780674980877

9.3 X 6.2 X 0.9 inches

1.05 pounds

Political Science > Political Ideologies - Democracy

English
$0
Available Copies:
0 Copies

Secure Transaction
Book Description
An Economist Best Book of the Year
How India's Constitution came into being and instituted democracy after independence from British rule.
Britain's justification for colonial rule in India stressed the impossibility of Indian self-government. And the empire did its best to ensure this was the case, impoverishing Indian subjects and doing little to improve their socioeconomic reality. So when independence came, the cultivation of democratic citizenship was a foremost challenge. Madhav Khosla explores the means India's founders used to foster a democratic ethos. They knew the people would need to learn ways of citizenship, but the path to education did not lie in rule by a superior class of men, as the British insisted. Rather, it rested on the creation of a self-sustaining politics. The makers of the Indian Constitution instituted universal suffrage amid poverty, illiteracy, social heterogeneity, and centuries of tradition. They crafted a constitutional system that could respond to the problem of democratization under the most inhospitable conditions. On January 26, 1950, the Indian Constitution--the longest in the world--came into effect. More than half of the world's constitutions have been written in the past three decades. Unlike the constitutional revolutions of the late eighteenth century, these contemporary revolutions have occurred in countries characterized by low levels of economic growth and education, where voting populations are deeply divided by race, religion, and ethnicity. And these countries have democratized at once, not gradually. The events and ideas of
India's Founding Moment
offer a natural reference point for these nations where democracy and constitutionalism have arrived simultaneously, and they remind us of the promise and challenge of self-rule today.
India's Founding Moment: The Constitution of a Most Surprising Democracy
Author Bio
Madhav Khosla is an Associate Professor of Political Science at Ashoka University, the Ambedkar Visiting Associate Professor of Law at Columbia University, and a Junior Fellow at the Harvard Society of Fellows. He works across a range of themes in public law and political theory.
Much of his writing and research has been in comparative constitutional law, with a focus on South Asia and India.
His books include India's Founding Moment: The Constitution of a Most Surprising Democracy (Harvard University Press 2020), The Oxford Handbook of the Indian Constitution (Oxford University Press 2016) (ed. with Sujit Choudhry and Pratap Bhanu Mehta) and Unstable Constitutionalism: Law and Politics in South Asia (Cambridge University Press 2015) (ed. with Mark Tushnet). In addition, Khosla's writings have appeared in journals such as the American Journal of Comparative Law and the International Journal of Constitutional Law, as well as popular forums like the Atlantic, Foreign Affairs, Los Angeles Review of Books, New York Times,
and Time.
Khosla studied political theory at Harvard University, where his dissertation was awarded the Edward M. Chase Prize for "the best dissertation on a subject relating to the promotion of world peace", and law at Yale Law School and the National Law School of India University, Bangalore. His work has been cited by courts in India and Pakistan.
Source: Columbia Law School
Photo: Gauri Gill