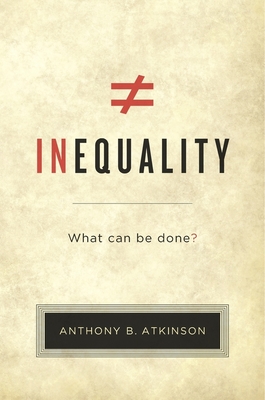 Harvard University Press
Inequality: What Can Be Done?
0

Rate this book

Key Metrics
Harvard University Press

Paperback

9780674979789

9.2 X 6.1 X 1.1 inches

0.9 pounds

Business & Economics > Economics - Theory

English
$0
Available Copies:
0 Copies

Secure Transaction
Book Description
Winner of the Richard A. Lester Award for the Outstanding Book in Industrial Relations and Labor Economics, Princeton University
An Economist Best Economics and Business Book of the Year
A Financial Times Best Economics Book of the Year
Inequality is one of our most urgent social problems. Curbed in the decades after World War II, it has recently returned with a vengeance. We all know the scale of the problem--talk about the 99% and the 1% is entrenched in public debate--but there has been little discussion of what we can do but despair. According to the distinguished economist Anthony Atkinson, however, we can do much more than skeptics imagine.
[Atkinson] sets forth a list of concrete, innovative, and persuasive proposals meant to show that alternatives still exist, that the battle for social progress and equality must reclaim its legitimacy, here and now... Witty, elegant, profound, this book should be read.
--Thomas Piketty, New York Review of Books
An uncomfortable affront to our reigning triumphalists. [Atkinson's] premise is straightforward: inequality is not unavoidable, a fact of life like the weather, but the product of conscious human behavior.
--Owen Jones, The Guardian
Inequality: What Can Be Done?
Author Bio
Professor Sir Tony Atkinson was an academic economist particularly concerned with issues of social justice and the design of public policy. He has been writing on economics since the 1960s, when his first book was on poverty in Britain and his second on the unequal distribution of wealth. Together with Joe Stiglitz he wrote Lectures in Public Economics. 
His late work focused on top incomes, contributing to the World Wealth and Income Database, and on monitoring rising inequality across the world. 
Source: tony-atkinson.com
The Faculty of Economics is deeply saddened by the death of Tony Atkinson, who passed away on 1 January 2017 at the age of 72. He began his academic career as Fellow of St. John's College, 1967-71, and returned to Cambridge in 1992 as Professor of Political Economy and Fellow of Churchill College before he became Warden of Nuffield College, University of Oxford, in 1994. 
Tony Atkinson pioneered the study of the economics of income distribution and the measurement of poverty and inequality. The Atkinson index is named after him. Throughout his life, he was actively engaged with policymaking and with finding solutions to alleviate poverty and inequality.
Source: University of Cambridge 
more
Videos