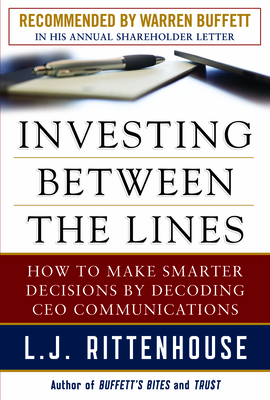 Investing Between the Lines: How to Make Smarter Decisions by Decoding CEO Communications
Interview with L J Rittenhouse
April 8, 2016
Sign Up to listen to full interview.
About L J Rittenhouse
Laura Rittenhouse is CEO and founder of Rittenhouse Rankings, a pioneer in Financial Communications Analytics Consulting and Research. The company measures corporate candor to provide clients with unique insights into operational performance, results and valuation. Over the past decade, The Rittenhouse Rankings Candor Investment portfolios have produced total returns two times greater than the market. These results confirm the tangible value of clear, insightful and engaging executive communications. Rittenhouse, a former Wall Street executive, is a keynote speaker, board advisor and author of Investing Between the Lines, which was endorsed by Warren Buffett. She is an advisor to the Nantucket Project Scholar's program and was named the 21st Century Orwell by The Big Think.
more
Interview Summary
more
Key Topics
Other Books by Author