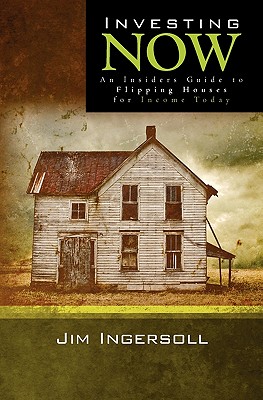 Createspace Independent Publishing Platform
Investing Now: An Insiders Guide to Flipping Houses For Income Today
0

Rate this book

Key Metrics
Createspace Independent Publishing Platform

Paperback

9781456308759

7.99 X 5.24 X 0.37 inches

0.41 pounds

Business & Economics > Real Estate - General

English
$0
Available Copies:
0 Copies

Secure Transaction
Book Description
In the economic climate of today, a new paradigm is needed, and Investing Now fills that void.
A step-by-step book to overcoming the primary challenges of today's difficult real estate market to create income and build wealth by flipping houses.
Jim Ingersoll's how-to guide will help create extraordinary opportunity in the one of the toughest recessions in history by teaching you:
- How to find the right house to buy (with or without a Realtor)
- How to fund your purchase without needing a bank
- How to renovate your new home to increase its maximum value
- How to prepare to sell your home
- How to use the power of the Internet and social media to help sell your home
Timely, incisive, and fundamentally sound, Jim Ingersoll's primer on creating opportunity, income, and wealth amidst an economy on the downturn is a revelation, the kind of handbook that is more gift than guide.
This book is an excellent road map for real estate investors to follow as they invest in today's economic climate. With a clear vision Jim Ingersoll shows the reader how to properly buy and sell in this incredible market. An excellent read!
Troy Ross, President of RRIEA
FINALLY, a no-nonsense, step by step, REAL LIFE, guide to Real Estate Investing!I have read many guides to Real Estate Investing and find this to be the one that should be used as THE industry textbook. As a Real Estate and Small Business Accountant with a huge portfolio of Real Estate Professionals and Investors across the country I will be suggesting this book as required reading and plan to offer it for sale in my office and on my website. Thank you, Jim, for once again providing a superb product!
Jennifer L. Davis, EA, ATA, ATP
Jim is one of the few people who's writing I can trust. Investing Now will show you how to grow and thrive while others are cowering, retreating and running away.
Michael Jake, Founder of Swift Results, Inc
Investing Now is the best news of the year. It will prepare you to gain control over uncertainty at the same time when many others are busy burying their head in the sand.
David Phelps, former private practice dentist and founder of David Phelps, International
Reader Review's
First, I think I will reread it when I can, because even though I made notes it has a lot of information to take in. Second, as someone who has been dealing with rentals for sometime there was a lot of things that you pointed out that will be very helpful... like the info about the Self Directing IRA, and the tips for finding houses... like talking to your local code enforcement (which I did today, they gave me three houses to check already! that have been vacant for a year or more).
Matthew Starr
Jim, I just got done reading your book and it had a great influence on me. I definitely learned a lot. Melissa and I are committed to learning more. Great job
Michael and Melisa Nevins
Investing Now: An Insiders Guide to Flipping Houses For Income Today