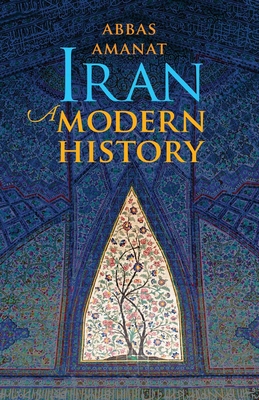 Yale University Press
Iran: A Modern History
0

Rate this book

Key Metrics
Yale University Press

Paperback

9780300248937

9.1 X 6.1 X 1.8 inches

2.75 pounds

History > Middle East - Iran

English
$0
Estimated Arrival:
Dec 9 -Dec 13
Available Copies:
5 Copies

Secure Transaction
Book Description
A masterfully researched history of Iran from 1501 to 2009
The defiant spirit of [Iran] is brought to life in this monumental history of the past 500 years.--Richard Spencer, The Times (London)
A majestic work that goes a long way in unraveling . . . the country's enigmas and apparent contradictions.--Ervand Abrahamian,
New York Review of Books
This history of modern Iran is not a survey in the conventional sense but an ambitious exploration of the story of a nation. It offers a revealing look at how events, people, and institutions are shaped by currents that sometimes reach back hundreds of years. The book covers the complex history of the diverse societies and economies of Iran against the background of dynastic changes, revolutions, civil wars, foreign occupation, and the rise of the Islamic Republic.
Abbas Amanat combines chronological and thematic approaches, exploring events with lasting implications for modern Iran and the world. Drawing on diverse historical scholarship and emphasizing the twentieth century, he addresses debates about Iran's culture and politics. Political history is the driving narrative force, given impetus by Amanat's decades of research and study. He layers the book with discussions of literature, music, and the arts; ideology and religion; economy and society; and cultural identity and heritage.
Iran: A Modern History
Author Bio
Abbas Amanat (B.A., Tehran University, 1971; D. Phil., University of Oxford, 1981) has taught and written about early modern and modern history of Iran, Muslim world, the Middle East and the Persianate world for more than three decades. 
His principal book publications include Ahd-e Qajar wa Sawda-ye Farang (Qajar Covenant and European Allure, London: Mehri Publication, 2021); Iran: A Modern History (New Haven: Yale University Press, 2017); Az Tehran ta 'Akka: Babiyan va Baha'iyan dar Asnad-e Dowran-e Qajar (From Tehran to 'Akka: Babis and Baha'is in the Official Records of Qajar Iran, Copenhagen and New Haven: Ashkaar Publishers, 2016); Apocalyptic Islam and Iranian Shi'ism (London and New York: I B Tauris, 2009); Pivot of the Universe: Nasir al-Din Shah Qajar and the Iranian Monarchy, 1831-1896 (Berkeley and Los Angeles: University of California Press, 1997, paperback: London and New York: I B Tauris, 2008; Persian translation: Qebleh-e 'Alam [Tehran: Nashr-e Karnameh, 2004]); Resurrection and Renewal: the Making of the Babi Movement in Iran, 1844-1850 (Ithaca: Cornell University Press, 1989; second ed. Los Angeles: Kalimat Press, 2005).

Amanat has edited Crowning Anguish: Memoirs of a Persian Princess from the Harem to Modernity (Washington DC: Mage Publishers, 1995) and Cities and Trade: Consul Abbott on the Economy and Society of Iran (London: Ithaca Press, 1983). 
He has coedited Iran Facing Others: Identity Boundaries in a Historical Perspective (New York: Palgrave Macmillan, 2012); Is There a Middle East: The Evolution of a Geopolitical Concept (Stanford: Stanford University Press, 2011); Shari'a: Islamic Law in the Contemporary Context (Stanford, 2007; paperback: Stanford, 2009); U.S.-Middle East Historical Encounters: A Critical Survey (Gainesville: University Press of Florida, 2007); Apocalypse and Violence (New Haven, 2004); and Imagining the End: Visions of Apocalypse from Ancient Middle East to Modern America (London and New York: I B Tauris, 2002). Amanat has also coedited a special issue entitled "Environment in Iran: Changes and Challenges," Iranian Studies: vol. 49. No. 6 (December 2016). He has published new editions (with extensive introductions) of E.G. Browne, The Persian Revolution (Washington DC, 1995) and C.J. Wills, The Land of the Lion and the Sun (Washington DC 2004). 
His new coedited volume: The Persianate World: A Conceptual Inquiry will be published by Brill Publishers in 2017. Amanat's 'Ahd-e Qajar va Sawda-ye Farang (Tehran: Nashr-e Namak) is due to appear in 2018. His work in progress includes Tahereh: A Millenarian Feminist, a biography of Fatima Qurrat al-'Ayn; Qajar Iran, British India and Tipu Sultan's Grand Alliance; and Nonconformity in the Early Modern and Modern Persianate World.

Abbas Amanat is a Consulting Editor and longtime contributor to Encyclopedia Iranica . His major entries in EIr include: "Constitutional Revolution" (1994); "Great Britain in Qajar Persia" (2002); "Hajji Baba of Ispahan" (2003); "Historiography of Qajar Iran" (2004); "Historiography of Pahlavi Iran" (2004) and "Islam in Iran: Messianism" (2007). He was a Carnegie Scholar of Islamic Studies (2005-2007) and the recipient of the Mellon-Sawyer Grant for comparative study of millennialism (1998-2001). 
He was the Editor-in-Chief of Iranian Studies, the journal of the Association for Iranian Studies (1991-98) and the Chair of the Council on Middle East Studies, Yale University (1993-2004). He is currently the Director of the Yale Program in Iranian Studies at the Yale MacMillan Center for International and Area Studies.  His courses include "Middle East and the West: A Cultural Encounter;" "Empire, Nationalism and Revolution in the Modern Middle East"; "Making of Modern Iran"; "Myth and Memory in the Persian Book of Kings"; "Mahdis of the Muslim World"; "The Great Game to the Great Satan"; and "Political Islam: The Origins and in Modern Times." Among his graduate seminars are "Narratives of Modern Iran;" "Historiography and Methodology of the Modern Middle East"; "Political Theory and Practice in the Persian Historical Texts and Contexts"; "Apocalypticism: Ancient and Modern;" and "Orientalism and Its Critics."
Source: Yale University Department of History 
more
Videos