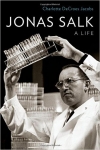 Jonas Salk: A Life
Interview with Charlotte DeCroes Jacobs
June 6, 2016
Sign Up. Full interview.
About Charlotte DeCroes Jacobs
Charlotte D. Jacobs, M.D. is the Ben and A. Jess Shenson Professor of Medicine (Emerita) at Stanford University. A native of Kingsport, Tennessee, she graduated from the University of Rochester and studied medicine at Washington University in St. Louis. As a professor at Stanford University, she engaged in teaching, cancer research, and patient care. She has served as Senior Associate Dean and as Director of the Clinical Cancer Center. Her academic honors include election to Phi Beta Kappa, Kaiser Foundation Award for Innovative and Outstanding Contributions to Medical Education, Rambar Award for Excellence in Clinical Care, and the Distinguished Alumni Award from Washington University. She has published ninety scientific articles and three books which reflect her cancer and medical education research. She currently cares for veterans with cancer at the Palo Alto Veterans Medical Center.
Mid-career, Jacobs began studying biography writing with Ehud Havazelet, formerly at Stanford University, currently at University of Oregon's Creative Writing Program. She has been awarded writing residencies at The MacDowell Colony (Peterborough, NH), Virginia Center for the Creative Arts (Sweet Briar, VA), and The Ragdale Foundation (Lake Forest, IL), and Djerassi Resident Artists Program (Woodside CA) where she received the Patricia E. Bashaw and Eugene Segre Fellowship. 
Her first biography, Henry Kaplan and the Story of Hodgkin's Disease, was published by Stanford University Press in March of 2010; paperback was released in 2012. Kaplan was an esteemed and controversial physician-scientist whose remarkable discoveries and passionate drive to cure cancer changed the course of cancer therapy. A dual drama, Kaplan's life is intertwined with the history of Hodgkin's disease. The Wall Street Journal called Jacobs' biography one of theBest Five Books on doctors' lives. The San Francisco Chronicle called it an "exquisite, compelling biography of the man who helped make Hodgkin's disease a curable condition." 
Jacobs'second biography, Jonas Salk, was published by Oxford University Press in May, 2015.
With Michael Sally, Jacobs has co-authored Just My TYPE, the book for a musical comedy based on the Myers-Briggs Type Indicator® assessment, with music and lyrics by Emmy winner Rita Abrams. Jacobs has received a number of Bay area awards for her acting and singing. 
Jacobs and her husband, Roderick A. Young, have five sons and live in Stanford, California.
Interview Summary
Key Topics
Other Books by Author