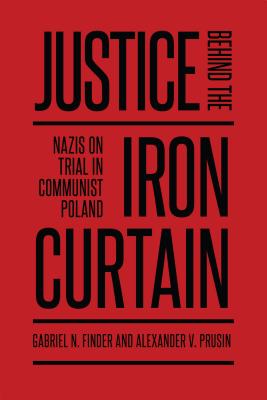 University of Toronto Press
Justice Behind the Iron Curtain: Nazis on Trial in Communist Poland
0

Rate this book

Key Metrics
University of Toronto Press

Paperback

9781487522681

8.9 X 14.8 X 1 inches

1.3 pounds

History > Eastern Europe - General

English
$0
Available Copies:
0 Copies

Secure Transaction
Book Description
In Justice behind the Iron Curtain, Gabriel N. Finder and Alexander V. Prusin examine Poland's role in prosecuting Nazi German criminals during the first decade and a half of the postwar era. Finder and Prusin contend that the Polish trials of Nazi war criminals were a pragmatic political response to postwar Polish society and Poles' cravings for vengeance against German Nazis. Although characterized by numerous inconsistencies, Poland's prosecutions of Nazis exhibited a fair degree of due process and resembled similar proceedings in Western democratic counties.
The authors examine reactions to the trials among Poles and Jews. Although Polish-Jewish relations were uneasy in the wake of the extremely brutal German wartime occupation of Poland, postwar Polish prosecutions of German Nazis placed emphasis on the fate of Jews during the Holocaust.
Justice behind the Iron Curtain
is the first work to approach communist Poland's judicial postwar confrontation with the legacy of the Nazi occupation.
Justice Behind the Iron Curtain: Nazis on Trial in Communist Poland
Author Bio
Gabriel Finder arrived at UVA in 2001. He teaches in the Department of Germanic Languages and Literatures and served as the Ida and Nathan Kolodiz Director of Jewish Studies from 2011 to 2019. Finder practiced law for five years, mostly in Israel, before embarking on an academic career. He teaches various Holocaust-related courses and German Jewish history and culture. His research interests include the Holocaust, Jewish rebuilding in its aftermath, Jewish cultural responses to the Holocaust, and Holocaust-related trials. He enjoys combining his interests in law on the one hand and Jewish history and culture on the other in both his writing and teaching.
He is coeditor with Laura Jockusch of Jewish Honor Courts: Revenge, Retribution, and Reconciliation in Europe and Israel after the Holocaust (Detroit: Wayne State University Press, 2015), which was named a 2016 National Jewish Book Award finalist in the Holocaust category by the Jewish Book Council, and he has recently completed a book manuscript, Justice Behind the Iron Curtain: Nazis on Trial in Communist Poland, coauthored with Alexander Prusin, for the University of Toronto Press. 
Finder is currently at work on a book manuscript whose working title is Moment of Reckoning: Inside the Jewish Honor Court in Poland after the Holocaust, which is under contract with Wayne State University Press. Finder concludes his introductory course on the Holocaust with a section on postwar trials, and he teaches a separate course called "The Holocaust and the Law," in which the class examines, among other things, the Nuremberg Trial, the Eichmann Trial, and the Auschwitz Trial. Finder is totally committed to teaching and writing about the Holocaust and its aftermath, but also enjoys a change of pace occasionally. 
Finder was raised in a family that possessed a rich repertoire of Jewish jokes from the old country, inspiring him to create a course on Jewish humor, which is both a reflection of and testimony to the genius of Jewish popular culture. Parallel to the course he initiated an anthology, coedited with Eli Lederhendler, which was recently published under the A Club of their Own: Jewish Humorists and the Contemporary World (Studies in Contemporary Jewry 29) (Oxford University Press, 2016). 
With his colleagues David Slucki and Avinoam Patt, he is now preparing an edited volume on humor created and performed in the aftermath of the Holocaust whose preliminary title is "I'm Allowed . . . I'm Jewish: Humor after the Holocaust for Wayne State University Press." In short, teaching animates and reinforces his research and vice-versa.
Source: University of Virginia Arts & Sciences
more