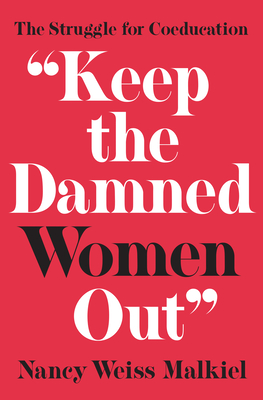 Princeton University Press
Keep the Damned Women Out: The Struggle for Coeducation
0

Rate this book

Key Metrics
Princeton University Press

Paperback

9780691181110

9.2 X 6.1 X 1.6 inches

2.1 pounds

Education > Higher

English
$0
Estimated Arrival:
Dec 7 -Dec 11
Available Copies:
7 Copies

Secure Transaction
Book Description
A groundbreaking history of how elite colleges and universities in America and Britain finally went coed
As the tumultuous decade of the 1960s ended, a number of very traditional, very conservative, highly prestigious colleges and universities in the United States and the United Kingdom decided to go coed, seemingly all at once, in a remarkably brief span of time. Coeducation met with fierce resistance. As one alumnus put it in a letter to his alma mater, Keep the damned women out. Focusing on the complexities of institutional decision making, this book tells the story of this momentous era in higher education--revealing how coeducation was achieved not by organized efforts of women activists, but through strategic decisions made by powerful men.
In America, Ivy League schools like Harvard, Yale, Princeton, and Dartmouth began to admit women; in Britain, several of the men's colleges at Cambridge and Oxford did the same. What prompted such fundamental change? How was coeducation accomplished in the face of such strong opposition? How well was it implemented? Nancy Weiss Malkiel explains that elite institutions embarked on coeducation not as a moral imperative but as a self-interested means of maintaining a first-rate applicant pool. She explores the challenges of planning for the academic and non-academic lives of newly admitted women, and shows how, with the exception of Mary Ingraham Bunting at Radcliffe, every decision maker leading the charge for coeducation was male.
Drawing on unprecedented archival research, Keep the Damned Women Out is a breathtaking work of scholarship that is certain to be the definitive book on the subject.
Keep the Damned Women Out: The Struggle for Coeducation
Author Bio
Nancy Weiss Malkiel is professor of history, emeritus, at Princeton University. A scholar in 20th century American history, she joined the Princeton faculty as an assistant professor in 1969, was promoted to associate professor in 1975 and to full professor in 1982. She transferred to emeritus status in 2016.
Professor Malkiel is the author most recently of "Keep the Damned Women Out": The Struggle for Coeducation (Princeton University Press, 2016), a study of the cascade of decisions for coeducation at elite institutions of higher education in the period from 1969 through 1974 – in the United States, Harvard, Yale, Princeton, Dartmouth, and Vassar, among many other colleges and universities; in the United Kingdom, the first three men's colleges at Cambridge in 1972, and the first five at Oxford in 1974. The objective is to understand why these decisions occurred when they did, how these very traditional, conservative institutions came to embrace such significant change, and what happened when the women students (or, in the case of Vassar, men students) arrived.
Professor Malkiel's previous publications (as Nancy J. Weiss) include Whitney M. Young, Jr., and the Struggle for Civil Rights (Princeton University Press, 1989), Farewell to the Party of Lincoln: Black Politics in the Age of FDR (Princeton University Press, 1983), and The National Urban League, 1910-1940 (Oxford University Press, 1974).
From 1987 to 2011, Professor Malkiel served as Dean of the College, the senior officer responsible for Princeton's undergraduate academic program. All matters relating to the curriculum, academic advising, academic regulations, and scholastic standing fell under her aegis. As dean, she also had oversight responsibility for the offices of Admission, the Registrar, Undergraduate Financial Aid, and Teacher Preparation, as well as for the Princeton Writing Program, the McGraw Center for Teaching and Learning, and the residential colleges.
From 1982 to 1986, Professor Malkiel served as the founding master of Dean Mathey College, one of Princeton's six residential colleges.
Professor Malkiel is a trustee of the Woodrow Wilson National Fellowship Foundation. She served previously as a commissioner of the Middle States Commission on Higher Education and as chair of the assembly and a member of the board of the Consortium on Financing Higher Education. She is a former trustee of Smith College, Princeton Day School, and McCarter Theatre in Princeton.
Professor Malkiel received a B.A. (1965) and an honorary degree (1997) from Smith College and an M.A. (1966) and Ph.D. (1970) from Harvard University.
Source: Princeton University 
more
Videos