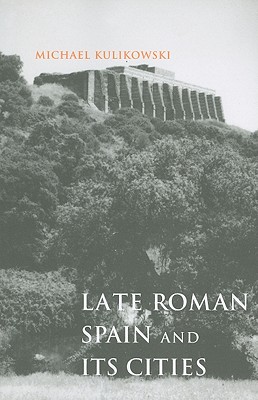 Johns Hopkins University Press
Late Roman Spain and Its Cities
0

Rate this book

Key Metrics
Johns Hopkins University Press

Paperback

9780801898327

8.3 X 5.6 X 1.1 inches

1.32 pounds

History > Ancient - Rome

English
$0
Available Copies:
0 Copies

Secure Transaction
Book Description
The history of Spain in late antiquity offers important insights into the dissolution of the western Roman empire and the emergence of medieval Europe. Nonetheless, scholarship on Spain in this period has lagged behind that on other Roman provinces. Michael Kulikowski draws on the most recent archeological and literary evidence to integrate late antique Spain into the broader history of the Roman empire, providing a definitive narrative and analytical account of the Iberian peninsula from A.D. 300 to 600.
Kulikowski begins with a concise introduction to the early history of Roman Spain, and then turns to the Diocletianic reforms of 293 and their long-term implications for Roman administration and the political ambitions of post-Roman contenders. He goes on to examine the settlement of barbarian peoples in Spain, the end of Roman rule, and the imposition of Gothic power in the fifth and sixth centuries. In parallel to this narrative account, Kulikowski offers a wide-ranging thematic history, focusing on political power, Christianity, and urbanism.
Kulikowski's portrait of late Roman Spain offers some surprising conclusions. With new archeological evidence and a fresh interpretation of well-known literary sources, Kulikowski contradicts earlier assertions of a catastrophic decline of urbanism, finding that the physical and social world of the Roman city continued well into the sixth century despite the decline of Roman power. This groundbreaking study will prompt further reassessments of the other Roman provinces and of medieval Spanish history.
Late Roman Spain and Its Cities
Author Bio
I am a late Roman historian and work on the political and institutional history of the empire between the second and fifth centuries, with a special interest in how one can read historical sources against the background of other evidence. 
My first book was a study of Roman and post-Roman Spain that tried to set the small body of written texts against the background of material culture; my second looked at the impact of Roman imperialism on neighboring territories and argued that the history of the barbarians, specifically the Goths, can be understood entirely as a response to Roman imperialism. 
I am presently at work on four projects: a history of the Roman empire from Hadrian to the fall of the western empire for the Profile History of the Ancient World; a study of late imperial political culture and the gap between political rhetoric and political practice called The Rhetoric of Being Roman; a history of the Latin chronicle tradition from its beginnings to the fifth century AD, in four volumes and in collaboration with R.W. Burgess; and as editor-in-chief of the forthcoming Landmark Ammianus Marcellinus.
Before coming to Penn State in 2009, I taught for eight years at the University of Tennessee.
Education 
PhD, University of Toronto, 1998
MA, University of Toronto, 1992
BA, Rutgers University, 1991
 
Source: PennState College of Liberal Arts 
more