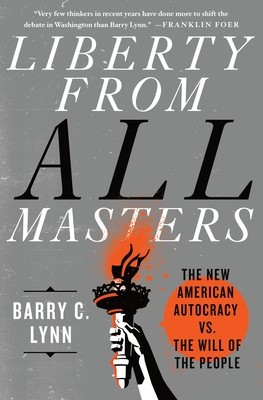 Liberty from All Masters:The New American Autocracy vs. the Will of the People
Book Summary
Big Tobacco, Big News, Big Banks, Big Oil, Big Stores, Big Motors and now we have Big Data too. 
Over the past century, family controlled businesses were the driving force behind our economic system, and over the years that force was either dissipated or undermined by the emergency of big businesses across all sectors of the American economy.
As some businesses amassed economic power and leveraged that into political influence, the set of rules began to change in the 1960s before they eventually gained momentum in the mid-80s. Rising economic powers systematically dismantled the regulatory hurdles along the way, using their ever growing political influence in the name of providing more efficient and better services to customers.
In Liberty from All Masters, journalist and writer Barry Lynn offers a sobering view of the current state of the country's political economy and its nexus to the political power structure.
Lynn's lucid prose reveals why The Founding Fathers were concerned about the extreme concentration of power in the English aristocracy and its business structure that led to the support of the autocratic and repressive regime of English rule in North America and India. Citizens by design, the motto of the early leaders of the United States, led to the distribution of wealth and a wider democratic base.
The rules that emerged from the early experiments in efforts of wider dissemination of new technologies were enhanced in the course of the last two centuries. However, the tide has turned since the early 80s, with rules related to the Common Carrier Law often being selectively implemented or just plainly ignored as politicians pander increasingly to the Big Businesses.
Lynn probes further in providing concrete examples of how the extreme concentration of power in digital platform operators has taken a more worrisome form in a way that ultimately affects our democratic institutions. These large corporations that we have come to trust with our data now have the abilities to decide what we search, what we buy, what we sell, what roads we travel on and increasingly what we think and what we should not think.
Other Books by Author