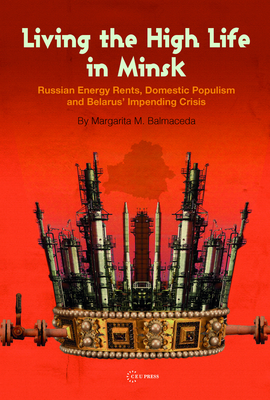 Central European University Press
Living the High Life in Minsk: Russian Energy Rents, Domestic Populism and Belarus' Impending Crisis
0

Rate this book

Key Metrics
Central European University Press

Hardcover

9786155225192

9.3 X 6.2 X 1.1 inches

1.2 pounds

History > Russia & the Former Soviet Union

English
$0
Estimated Arrival:
Oct 5 -Oct 9
Available Copies:
10+ Copies

Secure Transaction
Book Description
Looks at the sources of stability and instability in post-Soviet authoritarian states through the case study of President Lukashenka's firm hold on power in Belarus. In particular, it seeks to understand the role of energy relations, policies, and discourses in the maintenance of this power. The central empirical question Balmaceda seeks to answer is what has been the role of energy policies in the maintenance of Lukashenka's power in Belarus? In particular, it analyzes the role of energy policies in the management of Lukashenka's relationship with three constituencies crucial to his hold on power: Russian actors, the Belarusian nomenklatura, and the Belarusian electorate. In terms of foreign relations, the book focuses on the factors explaining Lukashenka's ability to project Belarus' power in its relationship with Russia in such a way as to compensate for its objective high level of dependency, assuring high levels of energy subsidies and rents continuing well beyond the initial worsening of the relationship in c. 2004. In terms of domestic relations, Balmaceda examines Lukashenka's specific use of those energy rents in such a way as to assure the continuing support of both the Belarusian nomenklatura and the Belarusian electorate.
Living the High Life in Minsk: Russian Energy Rents, Domestic Populism and Belarus' Impending Crisis
Author Bio
Professor Margarita M. Balmaceda, Ph.D was born in Buenos Aires, Argentina, but her professional life has centered in the USA (where she received a BA from Johns Hopkins University and an MA and PhD in Politics from Princeton University) and Eastern Europe.
Dr. Balmaceda, Professor of Diplomacy and International Relations, joined the School of Diplomacy and International Relations in 1999, where she received tenure in 2003 and was promoted to Professor in 2010. She teaches courses on the Politics of Ethnic and Cultural Diversity, on Post-Soviet and East European Politics and Foreign Policies, as well on Master's Research Project.
Currently she is an Associate of the Davis Center for Russian and Eurasian Studies and of the Ukrainian Research Institute at Harvard University. A specialist on the comparative energy politics of the post-Soviet states, since 2000 she has been "following the pipeline" – i.e. following the complex web of interconnections that accompany the energy relationship between Russian oil and gas producers, post-Soviet transit states, and European consumers. 
This research agenda has taken her on multiple field research stays in Eastern Europe and the former USSR, including Russia, Ukraine, Belarus, Lithuania, Hungary and Moldova. Support from three Fulbright Awards, as well as funding from the Ford Foundation, the, Humboldt Foundation, the DAAD and many other foundations, has made possible such ambitious research agenda. Fluent in Spanish, Russian, Ukrainian, German, near-fluent in Hungarian and with a good working knowledge of Belarusian, Dr. Balmaceda feels very much at home almost everywhere in Eastern Europe. 
And with the strong international presence at the School of Diplomacy and International Relations, she is happy to use her language skills in many one-to one discussions with her students.
From 2010-2011, under a $235,000 award from the European Union (Marie-Curie Fellowship from the European Commission/FP7 in partnership with the University of Helsinki) she is conducting a project on "Getting energy from Russia to Europe: Domestic political conditions in the energy-poor transit states of and risks to energy transit," an area of research she has developed through, among many publications, her books, 
The Ukrainian-Russian-Central European Security Triangle (Editor, CEU Press, 2000), Energy Dependency, Politics and Corruption in the Former Soviet Union (Routledge 2008) and (under review) The Politics of Energy Dependency: Ukraine, Belarus and Lithuania Between Domestic Oligarchs and Russian Pressure, 1992-2010 and Turning Politics into Economics, Dependency into Power: Belarus, Russia and Energy under Lukashenko.
In addition to her academic research, Dr. Balmaceda is active as a consultant and review committee panelist for a number for grant-making institutions, including, in the past, the National Science Foundation, the Fulbright Program, the International Research and Exchanges Board, the Canadian Social Science and Humanities Council, the Swiss Research Foundation, and the American Councils for International Education (ACTR/ACCEELS).
Education
 
Post-doctoral training in Ukrainian Studies, Harvard University, 1996-1997
Ph.D. in Politics, Princeton University
B.A. in International Studies, Johns Hopkins University
Source: Seton Hall University 
more