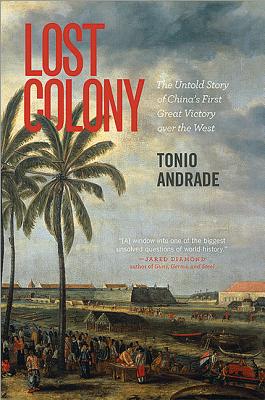 Princeton University Press
Lost Colony: The Untold Story of China's First Great Victory Over the West
0

Rate this book

Key Metrics
Princeton University Press

Paperback

9780691159577

8.92 X 5.76 X 1.09 inches

1.29 pounds

History > Asia - General

English
$0
Estimated Arrival:
Dec 12 -Dec 14
Available Copies:
10+ Copies

Secure Transaction
Book Description
How a Chinese pirate defeated European colonialists and won Taiwan during the seventeenth century
During the seventeenth century, Holland created the world's most dynamic colonial empire, outcompeting the British and capturing Spanish and Portuguese colonies. Yet, in the Sino-Dutch War--Europe's first war with China--the Dutch met their match in a colorful Chinese warlord named Koxinga. Part samurai, part pirate, he led his generals to victory over the Dutch and captured one of their largest and richest colonies--Taiwan. How did he do it? Examining the strengths and weaknesses of European and Chinese military techniques during the period, Lost Colony provides a balanced new perspective on long-held assumptions about Western power, Chinese might, and the nature of war.
It has traditionally been asserted that Europeans of the era possessed more advanced science, technology, and political structures than their Eastern counterparts, but historians have recently contested this view, arguing that many parts of Asia developed on pace with Europe until 1800. While Lost Colony shows that the Dutch did indeed possess a technological edge thanks to the Renaissance fort and the broadside sailing ship, that edge was neutralized by the formidable Chinese military leadership. Thanks to a rich heritage of ancient war wisdom, Koxinga and his generals outfoxed the Dutch at every turn.
Exploring a period when the military balance between Europe and China was closer than at any other point in modern history, Lost Colony reassesses an important chapter in world history and offers valuable and surprising lessons for contemporary times.
Lost Colony: The Untold Story of China's First Great Victory Over the West
Author Bio
I'm part of a new field in historical studies known as Global History, which focuses on commonalities and connections between the myriad societies on the planet rather than on traditionally-defined political or cultural units. My core geographical area of expertise is China, but my research focuses on interconnections in the Early Modern Period (1500-1800) and on comparative history. 
The main question that fascinates me is: Why did western Europeans, who sat on the far edge of Eurasia and were backward by Asian standards, rise to global prominence starting in the 1500s, establishing durable maritime empires that spanned the seas?
My first book, How Taiwan Became Chinese (2007), examined how Dutch, Spanish, and Chinese colonization met and competed in the Far East and asked why it was that the Chinese prevailed over the Europeans rather than the other way around, suggesting that political will – that is to say state support for expansion – was a key variable. My second book, Lost Colony (2011), examined the Sino-Dutch War of 1661-1668, Europe's first war with China and the only significant Sino-European conflict until the Opium War of 1839–42. 
It asked whether Europeans had – at this early date – any significant advantages in military and naval technology over China and concluded that they did, although not perhaps in the areas people might have expected. My third book, The Gunpowder Age (2016), looked more deeply into China's military past, comparing it to that of Europe, and showing that China's China's dynamism was deeper, longer lasting, and more quickly recovered than has long been believed.
Books 
The Gunpowder Age: China, Military Innovation, and the Rise of the West in World History (Princeton, 2016) 
Lost Colony: The Untold Story of Europe's First War with China (Princeton, 2011)
How Taiwan Became Chinese (Columbia University Press, 2007)
Articles in Journal of World History, Late Imperial China, Canadian Journal of Sociology, Itinerario, and Journal of Asian Studies, among others. Honors include The John Simon Guggenheim Fellowship and the Gutenberg-e Prize.
I accept Ph.D. students not just in Chinese history but also in the history of early modern European colonialism.
Syllabus for History 260: East Asia, 1500 to the Present
Emory Endeavors in World History (undergraduate history journal)

Education
 
BA, Reed College, 1992.
MA, University of Illinois, Urbana- Champaign, 1994.
MA, Yale University, 1997.
MPhil, Yale University, 1998.
PhD, Yale University, 2000.
 
Interests
 
Chinese history
Source: Emory College of Arts & Sciences
more