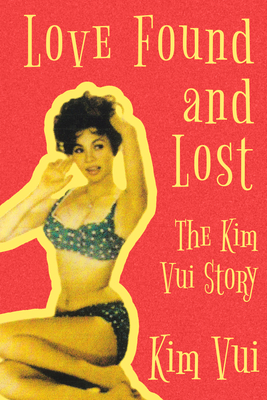 Texas Tech University Press
Love Found and Lost: The Kim Vui Story
0

Rate this book

Key Metrics
Texas Tech University Press

Paperback

9781682830918

-

-

Biography & Autobiography > Cultural, Ethnic & Regional - Asian & Asian American

English
$0
Estimated Arrival:
May 23 -May 25
Available Copies:
10+ Copies

Secure Transaction
Book Description
War has a way of annihilating not just individual combatants and civilians caught in the maelstrom, but also the cultural memories of the defeated. Forgotten are what cities and provinces were like after being ravaged and occupied by new regimes. Saigon of the 1960s and early 1970s is one such place. After the Republic of Vietnam was defeated in 1975, many of the city's accomplished and notable citizens fled, were imprisoned, or, necessarily but reluctantly, adapted to entirely different social and political circumstances.
Among those who departed their country of birth, few were as recognizable as the actress and singer Kim Vui, fondly referred to as the Sophia Loren of Vietnam. From her early work with a government civic action cadre to subsequent nightclub singing engagements and film roles, perhaps no other is so well positioned to tell the story of Saigon's nightlife and burgeoning film scene as the famous actress from Purple Horizon. Kim Vui was a pioneering performer and spokesmodel, the first to appear in a bikini and first to do a nude cinema scene. From contested rural hamlets to stage and on camera, Kim Vui took considerable personal risk throughout her life while blazing a trail in South Vietnam, later helping refugees on Guam, observing violence in Iran, working for change in Africa, and making America her new home.
Love Found and Lost is Kim Vui's story, told in her own words. From her challenging childhood and rise to prominence, to her torrid romance and bitter separation from an American committed to war in her country, Kim Vui candidly describes a place now lost to history and a love that spans continents and lifetimes.
Love Found and Lost: The Kim Vui Story
Author Bio
Kim Vui is a legendary former film actress of South Vietnam, cabaret singer and successful businesswoman.  Throughout the 1960s, Kim Vui was considered the sexiest screen goddess in the cinema of Saigon.  Movie audiences of South Vietnam had dubbed her as the Sophia Loren of Saigon due to her striking resemblance of the Italian film actress.
While still a teenager, Kim Vui had first entered the entertainment industry of South Vietnam performing nightly for major cabarets and music venues in Saigon as a professional dancer.  Trained as a ballet dancer during her childhood years, Kim Vui found the dancing profession to be rather easy and without any challenges.  Although her statuesque physique, posture and alluring beauty added to her talents as a dancer would give Kim Vui her first taste of being in the spotlight in her career as an entertainer, she quickly became bored as a professional dancer.  Her interest in music would then prompt her to pursue a successful singing career.  During the second half of the 1950s decade, Kim Vui would become one of the most popular headliners in the cabaret circuit of Saigon.  
Able to sing effortlessly in three different languages, she had acquired a sizable following through her nightclub act and had become known for her live performances covering popular songs like Bambino, Le Gitan and Histoire d'un Amour in the French language, I Left My Heart in San Francisco in the English language and Goi Gio Cho May Ngan Bay and Ta Ao Xanh in her native Vietnamese language.
In 1957, Kim Vui acted in her first major motion picture, Nguoi Dep Binh Duong (The Beautiful Lady from Binh Duong), playing one of the evil sisters of the main character portrayed by newcomer Tham Thuy Hang.  The film's blockbuster success resulted in turning Tham Thuy Hang into a major star of South Vietnam's motion picture industry instantaneously.  Unfortunate for Kim Vui, her credible performance in Nguoi Dep Binh Duong went unnoticed being overshadowed by the enormous publicity centered on Tham Thuy Hang's overnight rise to stardom.  During this period Kim Vui joined the Kim Cuong theater troupe and landed roles in plays like Lo Mot Buoc Duong (A Taken Step) and Toi La Me (I Am a Mother).  Dissatisfied with being typecast in villainous roles by Kim Cuong, Kim Vui left the troupe shortly thereafter.

Throughout the 1960s, Kim Vui would continue her successful career as a nightclub singer in Saigon.  She headlined at the most prestigious venues in Saigon such as Hoa Binh, Anh Vu, Maxim's, Arc en Ciel and Majestic.  As her popularity grew, she would perform at five to six different locations on a nightly basis limiting each stop with a setlist of just three songs.  Kim Vui's physical attributes led her to become the celebrity spokesmodel to appear on advertisements for such brands as Perlon toothpaste and Vietnam's most popular soft drink beverage, Sarsi.  In 1968, Kim Vui left Vietnam upon the invitation to headline at the Tropicana Hotel in Las Vegas, Nevada.  Upon her return to Saigon, Kim Vui would enjoy a resurgence in her acting career with a pair of successful films, Cui Mat (Bowed Head) and Thuong Han (Bitter Love), both released in 1969.

.At the beginning of the 1970s, Kim Vui would star in her most popular motion picture, Chan Troi Tim (Purple Horizon).  The cast included Hung Cuong, Mong Tuyen and Ngoc Duc.  Upon its release in 1971, the film would become one of the biggest commercial successes in the history of the cinema of Saigon.  Kim Vui had made history with this motion picture for being the first actress to ever appear on the big screen dressed in a bikini and also the first to appear in the nude.  That year she was honored with South Vietnam's equivalent to an Oscar, a Van Hoc Nghe Thuat Award for best actress.  Kim Vui had also recorded the theme song of Chan Troi Tim, written and composed by Nhat Truong.  The song would later become one of her signature songs she would often perform live in her nightclub act.
While still living in Saigon, Kim Vui had successfully juggled careers both as an entertainer and as an entrepreneur simultaneously.  With the money she had saved up from her earnings as a film actress and headliner for major cabarets and nightclubs in Saigon, Kim Vui decided to go into business for herself during the mid 1960s when she opened a music retail store located in the heart of downtown Saigon.  Profits generated from the music retail store allowed her to buy out a successful printing company, as well.  This would be followed with another lucrative business venture, an import/export company started by both Kim Vui and her second husband, an American civilian living in Vietnam.  
In 1972, she and her American husband along with their two children together and her two older children from a previous marriage to musician Hoai Nam left Vietnam to resettle in Guam.  She would then open a jewelry store near the Guam International Airport that catered to patrons primarily comprised of foreign tourists to the island.  After the Fall of Saigon in 1975, Kim Vui continued to live in Guam for another couple of years during which she had devoted much of her time in assisting newly arrived Vietnamese refugees and co-hosting a Vietnamese-language radio program broadcasted on Guam's KUAM radio network.  
It should be noted that this was the very first Vietnamese-language radio program to be broadcasted in the United States.
By the 1980s, Kim Vui and her family resettled in Virginia.  It was there that she and her husband decided to restart their import/export business.  Together they would build a multi-million dollar international trading empire importing and exporting timber and packaged seafood products with office branches in the United Kingdom, France and Africa.  In addition, they have expanded their wealth opening successful businesses in construction and real estate investment.  Now in her seventies with all of her children grown, including the youngest daughter who is now a doctor, Kim Vui shows no signs of slowing down and continues to head her multi-million dollar empire.
Source: https://vietceleb.blogspot.com/2015/08/kim-vui.html
more
Videos