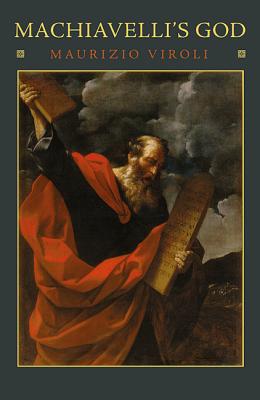 Princeton University Press
Machiavelli's God
0

Rate this book

Key Metrics
Princeton University Press

Paperback

9780691154497

9.1 X 6 X 0.9 inches

1.05 pounds

Philosophy > Political

English
$0
Estimated Arrival:
Aug 19 -Aug 23
Available Copies:
10+ Copies

Secure Transaction
Book Description
How Machiavelli's Christianity shaped his political thought
To many readers of The Prince, Machiavelli appears to be deeply un-Christian or even anti-Christian, a cynic who thinks rulers should use religion only to keep their subjects in check. But in Machiavelli's God, Maurizio Viroli, one of the world's leading authorities on Machiavelli, argues that Machiavelli, far from opposing Christianity, thought it was crucial to republican social and political renewal--but that first it needed to be renewed itself. And without understanding this, Viroli contends, it is impossible to comprehend Machiavelli's thought.
Viroli places Machiavelli in the context of Florence's republican Christianity, which was founded on the idea that the true Christian is a citizen who serves the common good. In this tradition, God participates in human affairs, supports and rewards those who govern justly, and desires men to make the earthly city similar to the divine one. Building on this tradition, Machiavelli advocated a religion of virtue, and he believed that, without this faith, free republics could not be established, defend themselves against corruption, or survive. Viroli makes a powerful case that Machiavelli, far from being a pagan or atheist, was a prophet of a true religion of liberty, a way of moral and political living that would rediscover and pursue charity and justice.
The translation of this work has been funded by SEPS--Segretariato Europeo per le Pubblicazioni Scientifiche.
Machiavelli's God
Author Bio
Maurizio Viroli is Professor Emeritus of Politics at Princeton University, Professor of Government at the University of Texas (Austin) and Professor of Political Communication at the University of Italian Switzerland (Lugano).
He has served as an advisor on cultural activities to the President of the Italian Republic during the presidency of Carlo Azeglio Ciampi (1999-2006), and has worked for the President of the Camera dei Deputati during the presidency of Luciano Violante (1996-2001). He has served as the coordinator of the National Committee for the Improvement of the Republican Culture within the Ministry of Home Affairs. He has been consultant of ANCI (National Association of Italian Municipalities). On May 30, 2001, he was appointed Ufficiale dell'Ordine al Merito of the Italian Republic.
He holds a degree in Philosophy from the University of Bologna and a PhD in Political and Social Sciences from the European University Institute of Firenze. He has taught and conducted research at the universities of Cambridge (Clare Hall), Georgetown (Washington, D.C.), the United Arab Emirates, Trento, Campobasso, Ferrara, the Institute for Advanced Study of Princeton, the Scuola Normale Superiore of Pisa, the European University Institute of Firenze (Jean Monnet Fellow), the Collegio of Milano and the Scuola Superiore di Amministrazione dell'Interno. He has promoted and directed several projects on civic education in Italian schools. In particular, he has founded and is now the Director of a Master's program in Civic Education established at Asti by Ethica Association.
His main fields of research are political theory and the history of political thought, classical republicanism and neo-republicanism, with a special expertise on Niccolò Machiavelli and Jean Jacques Rousseau, republican iconography, the relationship between religion and politics, patriotism, constitutionalism, classical rhetoric, political communication, citizenship, and civic education
Among his publications, Jean Jacques Rousseau and the "Well-Ordered Society", Cambridge University Press, 1988; From Politics to Reason of State. The Acquisition and Transformation of the Language of Politics (1250-1600), Cambridge University Press, 1992; For Love of Country: An Essay on Patriotism and Nationalism, Oxford University Press, 1995; Machiavelli, Oxford University Press, 1998; Niccolò's Smile, Farrar Straus and Giroux, 1998; Republicanism, Farrar Straus and Giroux, 1999; The Idea of the Republic, with Norberto Bobbio, Polity Press, 2003; How to read Machiavelli, Granta, 2008; Machiavelli's God, Princeton University Press, 2010; The Liberty of the Servants, Princeton University Press, 2011; As if God Existed. Religion and Liberty in the History of Italy, Princeton University press, 2012; Redeeming the "Prince". The Meaning of Machiavelli's Masterpiece, Princeton University Press, 2013. With Gisela Bock and Quentin Skinner he is the editor of Machiavelli and Republicanism, Cambridge University Press, 1990. 
He has edited and written the Introduction of Niccolò Machiavelli, The Prince, translation by Peter Bondanella, Oxford University Press, 2005.
Source: Princeton University 
more
Videos