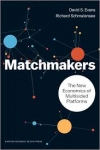 Matchmakers: The New Economics of Multisided Platforms
Book Summary
Matchmakers have been around since the dawn of time, but in recent years they have turbocharged their business growth leveraging all the latest technologies.
Matchmakers, marketplace operators or platform developers are all focused on connecting demand with supply, offering access to two groups and often subsidizing one to ignite the business. OpenTable, Uber, Amazon Marketplace, GrubHub are just some of these successful matchmakers.
Richard Schmalensee and David S. Evands, authors of Matchmakers: The New Economics of Multisided Platforms, give a systematic account of multisided markets with a thorough explanation of deeply rooted historic origins where appropriate. In this easy-to-read book, the two distinguished economic advisers compile several examples of successful marketplace operators to illustrate how startups can learn from these businesses and boost their own chances of success. 
Key Topics
How do traditional and matchmaking business models differ?
What is the deep rooted history of multisided business models?
How can new startups learn from successful multisided platforms?
Why is it difficult to launch a multi-sided platform business?
How can entrepreneurs overcome the challenge of building critical mass?
How can startups ignite the business by reducing market friction?
What is the Zigzag strategy and how do dating sites, search engines and video games leverage it?
How can singlesided management build a multisided platform?
Which are the fundamentals that have endured over thousands of years and are now powered by technology and innovation that make the matchmaking business more scalable?
Other Books by Author