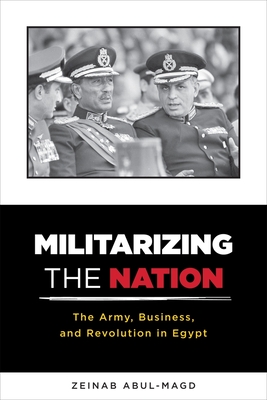 Columbia University Press
Militarizing the Nation: The Army, Business, and Revolution in Egypt
0

Rate this book

Key Metrics
Columbia University Press

Paperback

9780231170635

9 X 6 X 0.8 inches

1 pounds

History > Middle East - Egypt (see also Ancient - Egypt)

English
$0
Estimated Arrival:
Sep 29 -Oct 1
Available Copies:
10+ Copies

Secure Transaction
Book Description
Egypt's army portrays itself as a faithful guardian saving the nation. Yet saving the nation has meant militarizing it. Zeinab Abul-Magd examines both the visible and often invisible efforts by Egypt's semiautonomous military to hegemonize the country's politics, economy, and society over the past six decades. The Egyptian army has adapted to and benefited from crucial moments of change. It weathered the transition to socialism in the 1960s, market consumerism in the 1980s, and neoliberalism from the 1990s onward, all while enhancing its political supremacy and expanding a mammoth business empire. Most recently, the military has fought back two popular uprisings, retained full power in the wake of the Arab Spring, and increased its wealth. While adjusting to these shifts, military officers have successfully transformed urban milieus into ever-expanding military camps. These spaces now host a permanent armed presence that exercises continuous surveillance over everyday life. Egypt's military business enterprises have tapped into the consumer habits of the rich and poor alike, reaping unaccountable profits and optimizing social command. Using both a political economy approach and a Foucauldian perspective, Militarizing the Nation traces the genealogy of the Egyptian military for those eager to know how such a controversial power gains and maintains control.
Militarizing the Nation: The Army, Business, and Revolution in Egypt
Author Bio
Zeinab Abul-Magd is an associate professor of Middle Eastern history. She received a PhD in history and political economy in 2008 at Georgetown University, and an MA in Arab studies and Islamic law in 2003, also at Georgetown University. She received a BS in political science in 1996 at Cairo University, Egypt.
She specializes in the socioeconomic history, army, war and society, and Islamic law and society in the Middle East. Her first book, Imagined Empires: A History of Revolt in Egypt (Berkeley: University of California Press, 2013) won the Roger Owen Book Award in economic history from the Middle Eastern Studies Association in North America (MESA). This book has been translated into Arabic and published in Cairo by the Egyptian National Center of Translation in 2018.
Her recent publications include a monograph titled Militarizing the Nation: The Army, Business, and Revolution in Egypt (New York: Columbia University Press, 2017), and an edited volume titled Businessmen in Arms: How the Military and Other Armed Groups Profit in the MENA Region, coeditor with Elke Grawert (New York: Rowman and Littlefield, 2016).
As an internationally recognized expert in the field, Abul-Magd was invited to publish countless reports with influential think tanks in Washington, D.C. and Europe. In addition, she published articles at Foreign Policy magazine, Jadaliyya, and several Arabic newspapers.
In the United States, she published essays with renowned think tanks such as Carnegie Endowment, the Atlantic Council, and Middle East Institute.
In Europe, she wrote reports for the International Institute for Strategic Studies (IISS), London; SOAS's Middle East in London Magazine, University of London; Transparency International (TI), London; the German Orient-Institute (Deutsches Orient-Institut), Berlin; Christian Michelson Institute (CMI), Norway; and Istituto Per Gli studi Di Politica Internazionale (ISPI), Italy.
In Egypt, she published Arabic journalistic articles at al-Manassa, and Mada Masr. She was interviewed or quoted by local and international newspapers and networks such as the Washington Post, the New York Times, Reuters, al-Monitor, France 24, DW (Deutsche Welle), El Mundo, Vox, ONTV, and al-Masry al-Youm TV.
Source: Oberlin College and Conservatory