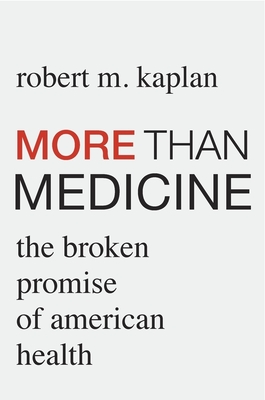 Harvard University Press
More Than Medicine: The Broken Promise of American Health
0

Rate this book

Key Metrics
Harvard University Press

Hardcover

9780674975903

8.3 X 5.8 X 0.9 inches

0.85 pounds

Medical > Public Health

English
$0
Available Copies:
0 Copies

Secure Transaction
Book Description
Stanford's pioneering behavioral scientist draws on a lifetime of research and experience guiding the NIH to make the case that America needs to radically rethink its approach to health care if it wants to stop overspending and overprescribing and improve people's lives.
American science produces the best--and most expensive--medical treatments in the world. Yet U.S. citizens lag behind their global peers in life expectancy and quality of life. Robert Kaplan brings together extensive data to make the case that health care priorities in the United States are sorely misplaced. America's medical system is invested in attacking disease, but not in addressing the social, behavioral, and environmental problems that engender disease in the first place. Medicine is important, but many Americans act as though it were all important.
The United States stakes much of its health funding on the promise of high-tech diagnostics and miracle treatments, while ignoring strong evidence that many of the most significant pathways to health are nonmedical. Americans spend millions on drugs for high cholesterol, which increase life expectancy by only six to eight months on average. But they underfund education, which might extend life expectancy by as much as twelve years. Wars on infectious disease have paid off, but clinical trials for chronic conditions--costing billions--rarely confirm that new treatments extend life. Meanwhile, the National Institutes of Health spends just 3 percent of its budget on research on the social and behavioral determinants of health, even though these factors account for 50 percent of premature deaths.
America's failure to take prevention seriously costs lives. More than Medicine argues that we need a shakeup in how we invest resources, and it offers a bold new vision for longer, healthier living.
More Than Medicine: The Broken Promise of American Health
Author Bio
Robert M. Kaplan is a Distinguished Research Professor of Health Policy and Management in the Fielding School.  He has served as Chief Science Officer at the US Agency for Health Care Research and Quality (AHRQ) and Associate Director of the National Institutes of Health, where he led the behavioral and social sciences programs.  
Before he served in government, he led the UCLA/RAND AHRQ health services training program and the UCLA/RAND CDC Prevention Research Center. He was Chair of the Department of Health Services (now HPM) from 2004 to 2009.  From 1997 to 2004 he was Professor and Chair of the Department of Family and Preventive Medicine, at the University of California, San Diego. He is a past President of several organizations, including the American Psychological Association Division of Health Psychology, Section J of the American Association for the Advancement of Science (Pacific), the International Society for Quality of Life Research, the Society for Behavioral Medicine, and the Academy of Behavioral Medicine Research. Kaplan is a former Editor-in-Chief of Health Psychology and of the Annals of Behavioral Medicine.  
His 20 books and over 565 articles or chapters have been cited more than 57,000 times.  Google Scholar includes him in the list of the most highly cited authors in all areas of science (defined as H-Index > 100).  Kaplan was elected to the National Academy of Medicine (formerly the Institute of Medicine) in 2005.  In addition to UCLA, he is a faculty member at the Stanford School of Medicine Clinical Excellence Research Center (CERC).  
Source: University of California - Fielding of School of Public Health 
more