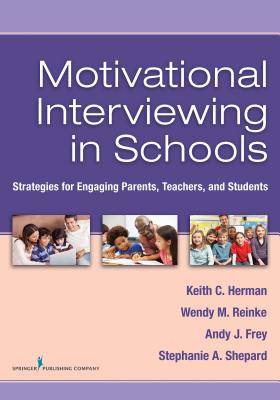 Springer Publishing Company
Motivational Interviewing in Schools: Strategies for Engaging Parents, Teachers, and Students
0

Rate this book

Key Metrics
Springer Publishing Company

Paperback

9780826130723

9.9 X 7.1 X 0.7 inches

1.2 pounds

Education > Counseling - General

English
$0
Available Copies:
0 Copies

Secure Transaction
Book Description
The authors of this book have made a very important contribution in producing a book that literally provides a roadmap for how to realize MI's potential in school and family contexts. They are the acknowledged leaders of MI in schools and deserve much credit for adapting this approach so well for effective use by educators. The content coverage of the book's chapters and its strong focus on the development of tools, strategies, and detailed, relevant examples of MI implementation in schools and also with families are, in my view, truly exemplary....I recommend it unconditionally as an invaluable resource for today's related services professional.
Hill Walker
, PhD
University of Oregon
This is an important, well-written and groundbreaking book. Motivational interviewing (MI) has been widely applied in health care, corrections, mental health and addiction services, and social work, but this is the first book to explore broadly how it can be used by school professionals. This is an up-to-date, well-documented presentation of the spirit and method of MI, integrating it with behavioral theory and research. Practical exercises and examples support learning of how to apply MI in everyday conversations about change with parents, teachers, students, families, and school-based teams.
William R. Miller
, PhD
The University of New Mexico
Motivational Interviewing has really influenced my thinking about instructional coaching, and I've often wished there was a book that applied the ideas to education. Finally, that book is here! This book deepens our understanding of the personal experience of change and explains how that understanding helps us work with students, parents, teachers, and others within schools. If you're an educator, you should be interested in how people change; and, if you're interested in change, you should read this book.
Jim Knight
, PhD
Author of
Instructional Coaching: A Partnership Approach to Improving Instruction
If you are a school counselor, school psychologist, or other school-based professional and you want to learn how to use motivational interviewing in schools, this is a must read book. It is a treasure-trove of knowledge and skills concerning the theory and step-by-step applications of motivational interviewing in elementary, middle, and high schools. A real strength are the many practical examples and sample forms that illustrate and support how motivational interviewing can effect positive changes in behavior. It is a book that will change the way you practice in schools.
Norman C. Gysbers
, PhD
Curators' Distinguished Professor, University of Missouri
201G Student Success Center
Editor Emeritus, Journal of Career Development
One of the greatest challenges for mental health and other professionals in school settings is to get students, families, and staff willing to partake of and engaged in their services. This is the first book on applying motivational interviewing (MI)√>=a powerful, evidence-based technique for facilitating behavior change√>=throughout the school environment to help psychologists, counselors and other school-based professionals to improve the effectiveness of their practice.
Based on encouraging research on the value of MI in K-12 settings, this practical book explains the basic elements of MI theory and demonstrates, step-by-step, how the four-stage process of engaging, focusing, evoking, and planning can be used with the families of students who need psychological or counseling services, teachers who need consultation and support to improve classroom management, and the students themselves. The book discusses barriers to readiness to change and describes how to foster engagement and compliance with school services to increase the likelihood that positive change will occur. It also describes how MI can be used to increase the effectiveness of inter-professional teams in school settings, along with ways in which MI can be integrated into and build support for already established programs. Richly illustrated with examples of using MI as a strategy for promoting everyday conversations about change--the nucleus of MI practice--the book also includes case studies and sample handouts for mental health professionals, students, family members, and teachers.
Key Features:
Demonstrates how to apply motivational interviewing to the K-12 environment to help school professionals improve effectiveness
Explains the four-stage process of engaging, focusing, evoking, and planning
Shows how MI can be used with children, their families, and teachers to facilitate change
Describes how MI can be integrated into other established programs
Includes plentiful case studies and examples of MI as a strategy for promoting everyday conversations about change
Motivational Interviewing in Schools: Strategies for Engaging Parents, Teachers, and Students