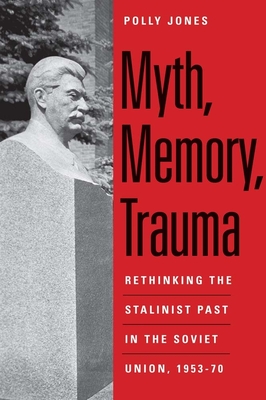 Yale University Press
Myth, Memory, Trauma: Rethinking the Stalinist Past in the Soviet Union, 1953-70
0

Rate this book

Key Metrics
Yale University Press

Paperback

9780300219777

9.2 X 6 X 1 inches

1.2 pounds

History > Russia & the Former Soviet Union

English
$0
Available Copies:
0 Copies

Secure Transaction
Book Description
Drawing on newly available materials from the Soviet archives, Polly Jones offers an innovative, comprehensive account of de-Stalinization in the Soviet Union during the Khrushchev and early Brezhnev eras. Jones traces the authorities' initiation and management of the de-Stalinization process and explores a wide range of popular reactions to the new narratives of Stalinism in party statements and in Soviet literature and historiography. Engaging with the dynamic field of memory studies, this book represents the first sustained comparison of this process with other countries' attempts to rethink their own difficult pasts, and with later Soviet and post-Soviet approaches to Stalinism.
Myth, Memory, Trauma: Rethinking the Stalinist Past in the Soviet Union, 1953-70
Author Bio
I have published widely on Soviet culture and politics, and teach a wide range of modern Russian literature, culture and language at undergraduate and graduate level for the faculty and college. 
My research interests centre on the literature and cultural politics of the post-Stalin period (1953-91), but also include: Soviet literature (1917-91); the Gulag and terror in literature; memory politics and trauma fiction; Soviet and socialist bloc propaganda and censorship; samizdat and dissidence; biography in Russian culture; and Russian and Soviet historical fiction. 
I appear regularly on radio and TV to talk about Russian culture and history, and acted as consultant to Armando Iannucci's film 'The Death of Stalin' (2017).
My two monographs explore the memory politics of post-Stalinism, particularly the role of literature in reimagining the Soviet past. My first monograph, Myth, Memory, Trauma. Rethinking the Stalinist Past in the Soviet Union, 1953-70 (Yale UP, 2013) argues that de-Stalinization of the 1950s and 1960s was not a primarily dissident memory project: cautiously encouraged by the Soviet authorities, 
Stalin's 'cult of personality' became a legitimate, albeit highly controlled and often controversial, theme in Soviet literary and historical writing and in public discussion. My second monograph, Revolution Rekindled. The Writers and Readers of Late Soviet Biography (OUP, 2019) is the first book-length study in any language of one of the largest Soviet biographical series, Fiery Revolutionaries (Plamennye revoliutsionery), which ran from 1964 to 1990, produced over 150 texts about an astonishingly wide range of 'revolutionaries', and came to include many of the leading writers of the period. 
The book traces the complex practices of late Soviet editing, writing and reading, and the fluidity of the boundaries between Soviet and 'unofficial' or 'underground' cultural production. In connection with these interests in biography and autobiography, I also published an edited volume, Writing Russian Lives. The Poetics and Politics of Russian Biography (MHRA, 2018).
I am now working on two, interlinked projects connected to Gulag history. Firstly, I am writing a short book, Gulag Fiction from Stalin to Putin (under contract with Bloomsbury). Secondly, I am embarking on a new collaborative project, 'The 101st kilometre. Provincial Marginality from Stalin to Gorbachev' (https://provincialmarginality.eventcreate.com/). 
This project extends my long-standing interest in the boundaries between Soviet and unofficial culture, in exploring the spaces and communities produced by Soviet penal policy and practice restricting residency in major cities for Gulag returnees and other 'marginals'. I am particularly interested in the literary and artistic communities formed in small towns such as Tarusa and other areas on the margins of Moscow oblast'.
Education
I completed my BA, MPhil and DPhil degrees at Oxford (New College and St Antony's College). I was the Harlech scholar at Harvard, and held junior research fellowships at St Antony's college (the Max Hayward fellowship) and Worcester College. 
I was lecturer for seven years at the School of Slavonic and East European Studies, University College London, and a Davis fellow at  Princeton University's Davis Center for Historical Studies before taking up the Schrecker-Barbour fellowship and Associate Professorship at University College in 2012. My research has been funded by the British Academy, Leverhulme Trust, CEELBAS and by the John Fell Fund and EHRC at Oxford.
Source: University of Oxford 
more