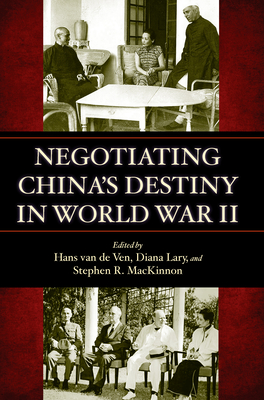 Stanford University Press
Negotiating China's Destiny in World War II
0

Rate this book

Key Metrics
Stanford University Press

Hardcover

9780804789660

9.3 X 6.1 X 0.9 inches

1.27 pounds

History > Asia - China

English
$0
Available Copies:
0 Copies

Secure Transaction
Book Description
Negotiating China's Destiny explains how China developed from a country that hardly mattered internationally into the important world power it is today. Before World War II, China had suffered through five wars with European powers as well as American imperial policies resulting in economic, military, and political domination. This shifted dramatically during WWII, when alliances needed to be realigned, resulting in the evolution of China's relationships with the USSR, the U.S., Britain, France, India, and Japan. Based on key historical archives, memoirs, and periodicals from across East Asia and the West, this book explains how China was able to become one of the Allies with a seat on the Security Council, thus changing the course of its future.
Breaking with U.S.-centered analyses which stressed the incompetence of Chinese Nationalist diplomacy, Negotiating China's Destiny makes the first sustained use of the diaries of Chiang Kai-shek (which have only become available in the last few years) and who is revealed as instrumental in asserting China's claims at this pivotal point. Negotiating China's Destiny demonstrates that China's concerns were far broader than previously acknowledged and that despite the country's military weakness, it pursued its policy of enhancing its international stature, recovering control over borderlands it had lost to European imperialism in the nineteenth and early twentieth century, and becoming recognized as an important allied power with determination and success.
Negotiating China's Destiny in World War II
Author Bio
I still don't have a very good answer as to why studying Chinese history has become my life passion. When I decided to learn Chinese in high school, I knew little about China, the Chinese language, or the country's history. But somehow I have never been tempted to do something else. 
Part of the reason is because the path on which this one unconsidered decision put me opened up all kinds of great opportunities: long periods in China and Taiwan, study with some wonderful teachers, and some ten years in the US where I met my wife and made many good friends. 
But also, Chinese history has always proved fascinating. I am at my happiest sitting in an archive or library in China, travelling through the country trying to learn more about a place important in my research, or talking about Chinese history with colleagues and friends at a university in China. And there is something very special to see former students build up lives focused on China.
Following my undergraduate studies in Sinology at Leiden University, I went to Harvard University to study modern Chinese history. Seven years later I had a Ph.D. and went to UC Berkeley as a Postdoctoral Fellow. The rest of my career has been spent at Cambridge University. 
My first book From Friend to Comrade: the Founding of the Chinese Communist Party (Berkeley: University of California Press, 1991) was awarded the Philip Lilienthal Prize of the University of California Press for best first book in Asian Studies.
Like all academics, I have enjoyed my sabbaticals. A British Academy Research Readership made it possible for me to spend three years away from teaching. One of these I spent as a Visiting Scholar at the Academia Sinica in Taiwan. 
More recently I have been a Fellow for a year at the Johns Hopkins – Nanjing University Center for US-China Cultural Exchange. I am also a Guest Professor at the Department of History of Nanjing University. I am a Fellow of the British Academy.
Research interests:
 
History of the Chinese Communist Party before 1949
The history of warfare in modern China from the Taiping Rebellion to the Civil War between the Communists and the Nationalists 
The history of Chinese globalization in the 1850-1950 period
Source: University of Cambridge Faculty of Asian and Middle Eastern Studies 
more