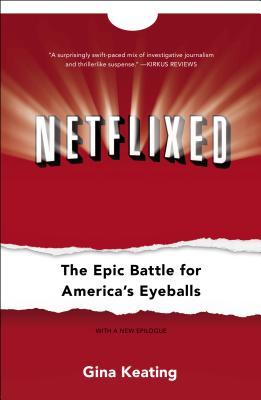 Netflixed:The Epic Battle for America's Eyeballs
Book Summary
Before Amazon disrupted the retail industry, Netflix was the bête noire of the movie industry. Marc Randolph and Reed Hastings co-founded a movie rental service that simply sent discs by mail. The business took off because customers loved a subscription model with no late fees.
As Netflix built the customer base and expanded its movie library, business growth accelerated and the entrenched movie rental retailer Blockbuster was forced to respond. In 2000, Hastings first struggled to win a partnership with Blockbuster, but after several rebuffs he went on to chart an independent course with devastating impact on the largest movie retailer at the time.
In an interview with Readara, award-winning author Gina Keating discusses what led to the rise of Netflix and how the movie rental industry slowly shifted to mail order before launching streaming services. Keating goes on to explain how the digitization and the rapid spread of the Internet led to the fall of the once-mighty retail empire of Blockbuster with its thousands of stores, millions of customers and strong marketing strategies. 
In 2004, four years after Netflix was launched, John Antioco, CEO of Blockbuster, realized that Netflix and Redbox are posing a serious threat to the company. After eliminating the annoying late fees that also generated nearly $200 million in profits, he decided to invest an additional $200 million in online operations. However, in 2005, activist shareholder Carl Icahn fired the retail veteran who was taking all the right steps in countering the Netflix threat.
Netflix invested heavily in following and understanding online customer behavior and leveraged that knowledge by building a movie library and improving customer experience. Yet, the final chapter of the company may not be written, as Amazon pursues Netflix customers with a growing library of movies and other offerings at even cheaper subscription prices. 
Other Books by Author