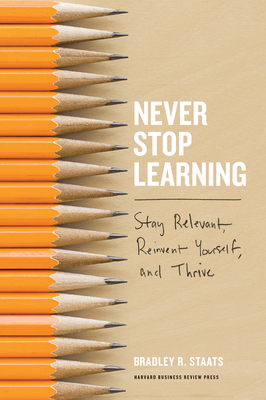 Never Stop Learning:Stay Relevant, Reinvent Yourself, and Thrive
Interview with Bradley R Staats
August 6, 2018
Sign Up to listen to full interview.
About Bradley R Staats
Bradley R. Staats is an associate professor of operations at the University of North Carolina's Kenan-Flagler Business School. His work has been featured in many publications, including Harvard Business Review, Fast Company, the New Yorker, the Financial Times, the Wall Street Journal, as well as on NPR.
Brad Staats examines how individuals and organizations learn and improve in order to stay relevant, innovate and succeed on an ongoing basis. His teaching focuses on learning and analytics. He also works with companies around the world on their learning and analytics strategies.
Dr. Staats integrates work in operations management and human behavior to understand how and under what conditions individuals, teams and organizations can perform their best. His field-based research in such settings as healthcare and software services, consulting, call centers and retail, uses archival data and field experiments to provide an interdisciplinary perspective to improve both operations' theory and practice.
He is the author of the award-winning book "Never Stop Learning: Stay Relevant, Reinvent Yourself and Thrive" (Harvard Business Review Press, 2018). He shares original research, outlines why success demands continuous learning and provides a practical framework for becoming a dynamic learner.
Dr. Staats leads the Center for the Business of Health, a cross-disciplinary initiative targeting some of the biggest healthcare challenges of our time. UNC Kenan-Flagler is leading efforts to grow this initiative, which is by design a pan-university effort that draws upon the wide health sciences strengths across campus, including our top-ranked schools of pharmacy, public health, nursing, dentistry, arts and sciences, medicine and business. By building on this collaborative powerhouse of resources and talent through the Center for the Business of Health, UNC Kenan-Flagler seeks to distinguish both itself and the University as leading national voices in education, research and thought leadership in the business of healthcare.
He received the 2016 Warren Bennis Prize for his article "Why Organizations Don't Learn" in Harvard Business Review. The award honors the previous year's best article on leadership. He publishes frequently in  leading academic journals and practitioner-focused journals. He is an associate editor at Management Science, Manufacturing & Service Operations Management and Production and Operations Management.
He received his DBA in technology and operations management and MBA from Harvard Business School, and his BS with honors in electrical engineering and BA with high honors in Plan II and Spanish from The University of Texas at Austin.
Source: University of North Carolina 
more
Interview Summary
Key Topics
How is learning from failure different in different cultures?
Why do we focus on learning as an individual exercise and neglect the role played by others?
Why are we unwilling to take risks that might lead to failure?
Why and how may reflection help us better than practice?
What makes us bad at learning?
Why are we focused on the outcome and not on the process of learning?
Who are dynamic learners and how can one actually learn to become one?
Why do we think it is easier to learn from others' mistakes than from our own?
What can we do to increase our capacity to learn?
How does process focus lead to deeper learning?
Other Books by Author