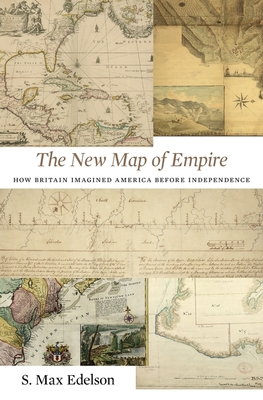 Harvard University Press
New Map of Empire: How Britain Imagined America Before Independence
0

Rate this book

Key Metrics
Harvard University Press

Hardcover

9780674972117

9.3 X 6.4 X 1.4 inches

1.9 pounds

History > Americas (North Central South West Indies)

English
$0
Estimated Arrival:
May 19 -May 23
Available Copies:
10+ Copies

Secure Transaction
Book Description
After the Treaty of Paris ended the Seven Years' War in 1763, British America stretched from Hudson Bay to the Florida Keys, from the Atlantic coast to the Mississippi River, and across new islands in the West Indies. To better rule these vast dominions, Britain set out to map its new territories with unprecedented rigor and precision. Max Edelson's The New Map of Empire pictures the contested geography of the British Atlantic world and offers new explanations of the causes and consequences of Britain's imperial ambitions in the generation before the American Revolution.
Under orders from King George III to reform the colonies, the Board of Trade dispatched surveyors to map far-flung frontiers, chart coastlines in the Gulf of St. Lawrence, sound Florida's rivers, parcel tropical islands into plantation tracts, and mark boundaries with indigenous nations across the continental interior. Scaled to military standards of resolution, the maps they produced sought to capture the essential attributes of colonial spaces--their natural capacities for agriculture, navigation, and commerce--and give British officials the knowledge they needed to take command over colonization from across the Atlantic.
Britain's vision of imperial control threatened to displace colonists as meaningful agents of empire and diminished what they viewed as their greatest historical accomplishment: settling the New World. As London's mapmakers published these images of order in breathtaking American atlases, Continental and British forces were already engaged in a violent contest over who would control the real spaces they represented.
Accompanying Edelson's innovative spatial history of British America are online visualizations of more than 250 original maps, plans, and charts.
New Map of Empire: How Britain Imagined America Before Independence
Author Bio
S. Max Edelson studies the history of British America and the Atlantic world. His research examines space, place, and culture in colonial North America and the Caribbean. His first book, Plantation Enterprise in Colonial South Carolina (Harvard, 2006) examines the relationship between planters and environment in South Carolina as the key to understanding this repressive, prosperous society and its distinctive economic culture. 
It shows that although plantations often represent stasis in myths of the Old South, they were in fact dynamic instruments of empire. Plantation Enterprise was awarded the George C. Rogers Prize by the South Carolina Historical Society and the Theodore Saloutos Memorial Award by the Agricultural History Society.  Harvard University Press published a paperback edition of the book in 2011.
His second book, The New Map of Empire: How Britain Imagined America Before Independence (Harvard, 2017), describes how Britain used maps and geographic knowledge to reform its American empire in the eighteenth century.  The book follows the surveyors who fanned out across frontier territories--from the frigid coasts of the Gulf of St. Lawrence to tropical islands in the southeastern Caribbean--to make distant spaces legible from London. The schemes of colonial development and control that these maps envsioned, Edelson argues, helped provoke the reisstance that led to the American Revolution. The New Map of Empire features a free companion website with a dynamic digital archive of more than 257 maps and charts discussed in the book. It was a finalist for the George Washington Book Prize in 2017 and received the John Lyman Book Award for U.S. Maritime History by the North American Society for Oceanic History.
Edelson and Research Professor Bill Ferster were awarded a National Endowment for the Humanities Digital Implementation Grant in 2012 to develop MapScholar at UVa's SHANTI (Sciences, Humanities, and Arts Network of Technological Initiatives).  MapScholar is a dynamic visualization tool for historic map collections.  It offers a free, open-source portal that gives scholars the ability to bring together high-resolution map images from a variety of sources, analyze them in rich geospatial contexts, and use them to illustrate new interpretations in the history of cartography.  Edelson received an American Council of Learned Societies Digital Innovation Fellowship in 2010 to begin this digital humanities research.
Edelson and Professors Christa Dierksheide and Alan Taylor direct the UVa Early American Seminar at Monticello, an ongoing research seminar jointly sponsored by the Corcoran Department of History and the International Center for Jefferson Studies.  The intellectual center of our dynamic graduate program in colonial, Revolutionary, and early national history, the EAS is a community of scholars that includes PhD students, faculty, and visiting researchers who meet regularly to share and critique works in progress.
Source: UVA Arts & Sciences 
more