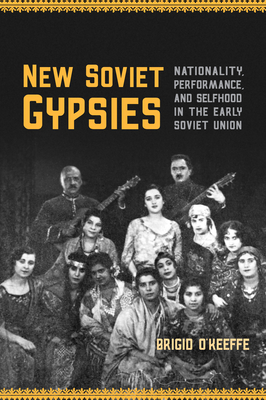 Brigid O'Keeffe

University of Toronto Press
New Soviet Gypsies: Nationality, Performance, and Selfhood in the Early Soviet Union
0

Rate this book

Key Metrics
Brigid O'Keeffe

University of Toronto Press

Paperback

9781487528294

8.9 X 6 X 1 inches

1.15 pounds

History > Social History

English
$0
Available Copies:
0 Copies

Secure Transaction
Book Description
As perceived icons of indifferent marginality, disorder, indolence, and parasitism, Gypsies threatened the Bolsheviks' ideal of New Soviet Men and Women. The early Soviet state feared that its Romani population suffered from an extraordinary and potentially insurmountable cultural backwardness, and sought to sovietize Roma through a range of nation-building projects. Yet as Brigid O'Keeffe shows in this book, Roma actively engaged with Bolshevik nationality policies, thereby assimilating Soviet culture, social customs, and economic relations. Roma proved the primary agents in the refashioning of so-called backwards Gypsies into conscious Soviet citizens.
New Soviet Gypsies provides a unique history of Roma, an overwhelmingly understudied and misunderstood diasporic people, by focusing on their social and political lives in the early Soviet Union. O'Keeffe illustrates how Roma mobilized and performed Gypsiness as a means of advancing themselves socially, culturally, and economically as Soviet citizens. Exploring the intersection between nationality, performance, and self-fashioning, O'Keeffe shows that Roma not only defy easy typecasting, but also deserve study as agents of history.
New Soviet Gypsies: Nationality, Performance, and Selfhood in the Early Soviet Union
Author Bio
Brigid O'Keeffe is a historian of imperial Russia and the Soviet Union. Her research has demonstrated commitment to showing how those whom historians tend to dismiss as "marginal" allow us to understand the past in new ways.
O'Keeffe is the author of Esperanto and Languages of Internationalism in Revolutionary Russia (2021) - a study of the Esperantists in late imperial and early Soviet Russia who deployed an international auxiliary language in their varied efforts to revolutionize themselves, Russia, and the world. O'Keeffe is also the author of New Soviet Gypsies: Nationality, Performance, and Selfhood in the Early Soviet Union (2013) - a book that examines how early Soviet nationality policy enabled Roma to fashion themselves as integrated Soviet citizens.
She is currently writing "The Multiethnic Soviet Union and its Demise" for Bloomsbury's Russian Shorts Book Series. O'Keeffe has also published her research on the life of Ivy Litvinov and on race in Soviet history.
Source: Brooklyn College CUNY