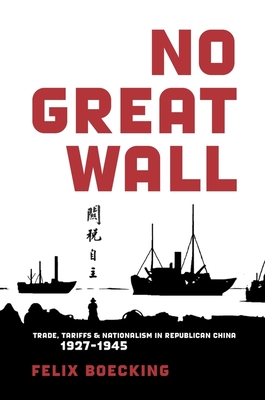 Harvard University Press
No Great Wall: Trade, Tariffs, and Nationalism in Republican China, 1927-1945
0

Rate this book

Key Metrics
Harvard University Press

Hardcover

9780674970601

9.1 X 6 X 1 inches

1.19 pounds

History > Asia - China

English
$0
Available Copies:
0 Copies

Secure Transaction
Book Description
This book, an in-depth study of Nationalist tariff policy, fundamentally challenges the widely accepted idea that the key to the Communist seizure of power in China lay in the incompetence of Chiang Kai-shek's Nationalist government. It argues instead that during the second Sino-Japanese War, China's international trade, the Nationalist government's tariff revenues, and hence its fiscal policy and state-making project all collapsed.
Because tariffs on China's international trade produced the single greatest share of central government revenue during the Nanjing decade, the political existence of the Nationalist government depended on tariff revenue. Therefore, Chinese economic nationalism, both at the official and popular levels, had to be managed carefully so as not to jeopardize the Nationalist government's income. Until the outbreak of war in 1937, the Nationalists' management of international trade and China's government finances was largely successful in terms of producing increasing and sustainable revenues. Within the first year of war, however, the Nationalists lost territories producing 80 percent of tariff revenue. Hence, government revenue declined just as war-related expenditure increased, and the Nationalist government had to resort to more rapacious forms of revenue extraction--a decision that had disastrous consequences for both its finances and its political viability.
No Great Wall: Trade, Tariffs, and Nationalism in Republican China, 1927-1945
Author Bio
I was educated at the Universities of Cambridge (PhD, Oriental Studies (Modern Chinese Economic History), 2008) and Oxford (BA, Oriental Studies (Chinese), 2003).  I also hold a Certificate from the Hopkins-Nanjing Center for Chinese-American Studies, and have studied abroad at Beijing University and Beijing Languages University (formerly Beijing Language and Culture University). 
Before coming to Edinburgh in September 2008, I served as a temporary lecturer in Modern East Asian History at Newcastle University from January until June 2008. 
During the academic year 2010/2011, I was on leave while holding an An Wang Postdoctoral Fellowship at the Fairbank Center for Chinese Studies at Harvard University and serving as a Visiting Lecturer in the Harvard University History Department. I was elected as a Fellow of the Royal Historical Society (FRHistS) in September 2017, and as a Fellow of the Royal Asiatic Society (FRAS) in January 2018. 
During the academic year 2018/2019, I was a Fellow in the History and Public Policy Program and at the Kissinger Institute for China and the United States at the Woodrow Wilson International Center for Scholars in Washington, DC. 
Research projects
 
My current project, "Economics on the Edge", supported by a Fellowship at the Woodrow Wilson International Center for Scholars in Washington DC, is an intellectual history of economics and economists in the People's Republic of China from 1949 to the present day. 
It combines a discussion of key concepts with intellectual and political biographies of Chinese economists, and demonstrates that modern economics did not enter the PRC only in 1978 as a Western import, as many economists have argued, but that Chinese economics are an intellectual tradition in their own right rather than being a local inflection of a global trend. By studying this tradition, this project is also a contribution to the decentering of Western economics. Furthermore, a study of economic ideas is also always a history of the people practising and living these ideas in a complex, diverse, and continually shifting political environment. 
In a socialist country, being an economist was an inherently risky occupation, given the continually changing political environment—as the boundaries of the politically permissible shifted, so did the definition of a good intellectual citizen.
A previous project, "No Great Wall—Trade, Tariffs and Nationalism in Republican China, 1927-1945", was supported by an An Wang Postdoctoral Fellowship at the Fairbank Center for Chinese Studies at Harvard University during the academic year 2010/2011.
Source: The University of Edinburgh 
more