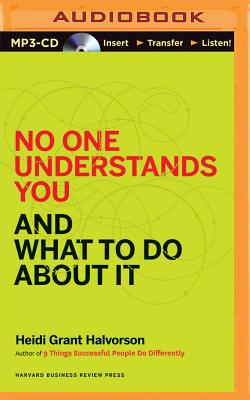 Audible Studios on Brilliance
No One Understands You and What to Do about It
0

Rate this book

Key Metrics
Audible Studios on Brilliance

Audio

9781511392495

6.7 X 5.3 X 0.5 inches

0.18 pounds

Self-Help > Communication & Social Skills

English
$0
Available Copies:
0 Copies

Secure Transaction
Book Description
Have you ever felt you're not getting through to the person you're talking to or not coming across the way you intend? You're not alone. That's the bad news. But there is something we can do about it. Heidi Grant Halvorson, social psychologist and best-selling author, explains why we're often misunderstood and how we can fix that.
Most of us assume that other people see us as we see ourselves and that they see us as we truly are. But neither is true. Our everyday interactions are colored by subtle biases that distort how others see us--and shape our perceptions of them. You can learn to clarify the message you're sending once you understand the lenses that shape perception:
Trust. Are you friend or foe?
Power. How much influence do you have over me?
Ego. Do you make me feel insecure?
Based on decades of research in psychology and social science, Halvorson explains how these lenses affect our interactions--and how to manage them. Once you understand the science of perception, you'll communicate more clearly, send the messages you intend to send, and improve your personal relationships. You'll also become a fairer and more accurate judge of others. Halvorson even offers an evidence-based action plan for repairing a damaged reputation.
This audiobook is not about making a good impression, although it will certainly help you do that. It's about coming across as you intend. It's about the authenticity we all strive for.
No One Understands You and What to Do about It
Author Bio
Dr. Heidi Grant is a social psychologist who researches, writes, and speaks about the science of leadership and motivation.  In both 2017 and 2019, she was named one of Thinkers50's most influential management thinkers globally in their biannual rankings. She is the Director of Research & Development for EY Americas Learning, Associate Director of the Motivation Science Center at the Columbia University, and author of the best-selling books:
Reinforcements: How to Get People To Help You, No One Understands You and What To Do About It, Succeed: How We Can All Reach Our Goals, Nine Things Successful People Do Differently, Focus: Use Different Ways of Seeing The World for Success and Influence (co-written with E. Tory Higgins), and The 8 Motivational Challenges.
Dr. Grant has appeared regularly on CBS: This Morning, and is also a contributor to the Harvard Business Review, 99u, Fast Company, Business Insider, Forbes, The Huffington Post, and Psychology Today.    
Her June 2019 TED talk on motivating others to help you has over 2 million views. She gives frequent keynotes for organizations and speaks regularly at national conferences, primarily on the topics of innovation, influence, leadership, and management.  She received her PhD in social psychology from Columbia University, working with Carol Dweck (author of Mindset).
In addition to her work as author and co-editor of the highly-regarded academic book The Psychology of Goals (Guilford, 2009), she has authored papers in her field's most prestigious journals, including the Journal of Personality and Social Psychology, Journal of Experimental Social Psychology, Personality and Social Psychology Bulletin, European Journal of Social Psychology, and Judgment and Decision Making.   She has received numerous grants from the National Science Foundation for her research on goals and achievement.
Dr. Grant is a member of the American Psychological Association, the Association for Psychological Science, and the Society for Personality and Social Psychology, and was recently elected to the highly selective Society for Experimental Social Psychology.
Source: heidigrantphd.com
more
Videos