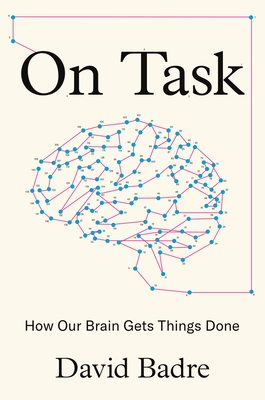 Princeton University Press
On Task: How Our Brain Gets Things Done
0

Rate this book

Key Metrics
Princeton University Press

Paperback

9780691218878

-

-

Science > Cognitive Science

English
$0
Available Copies:
0 Copies

Secure Transaction
Book Description
A look at the extraordinary ways the brain turns thoughts into actions--and how this shapes our everyday lives
From making a cup of coffee to buying a house to changing the world around them, humans are uniquely able to execute necessary actions. How do we do it? Or in other words, how do our brains get things done? In On Task, cognitive neuroscientist David Badre presents the first authoritative introduction to the neuroscience of cognitive control--the remarkable ways that our brains devise sophisticated actions to achieve our goals. Drawing on cutting-edge research, vivid clinical case studies, and examples from daily life, On Task offers an eye-opening investigation into the brain's critical role in human behavior.
On Task: How Our Brain Gets Things Done
Author Bio
David Badre received his B.S. from the University of Michigan in 2000, and his Ph.D. from the Department of Brain and Cognitive Sciences at MIT in 2005. 
Following a postdoctoral fellowship at the University of California, Berkeley, he joined Brown's Department of Cognitive, Linguistic, and Psychological Sciences as Assistant Professor in 2008 and was promoted to Associate Professor in 2014. He is also an affiliate of the Carney Institute for Brain Science at Brown and a trainer in the Neuroscience Graduate Program. 
His lab at Brown focuses on the cognitive neuroscience of memory and cognitive control with an emphasis on frontal lobe function and organization. Dr. Badre serves on the editorial boards of Psychological Science, Cognitive Science, and Behavioral Neuroscience.  He served as Section Editor covering "Executive Function and Cognitive Control" for Neuropsychologia until 2017. Presently, he serves on the Board of Reviewing Editors for the journal eLife, and he is a standing member of the Cognition and Perception study section of NIH. 
His research is supported by NINDS and NIMH at the NIH, and through the Office of Naval Research. His work has been recognized by several awards, including an Alfred P. Sloan Foundation Fellowship in Neuroscience, a James S. McDonnell Scholar Award in Understanding Human Cognition, and the Cognitive Neuroscience Society Young Investigator Award.
Research Interests 
How do we choose our actions given our goals, knowledge, and circumstances? Humans can avoid habitual tendencies and pick the right action for the right situation, an ability termed "cognitive control" or "executive function". Losing cognitive control, due to neurological or psychiatric condition, severely diminishes independence and quality of life. 
Our lab studies cognitive control of memory and action, using cognitive neuroscience methods that include structural and functional MRI, brain stimulation, EEG/ECoG, computational modeling, and testing of patient populations.
Source: Brown University 
more
Videos